Payment & Delivery Details.


How do I order?

Simply "Add your item to cart" Green button, When you've finished shopping, simply click the "Checkout" button on the order page. 

Alternatively, you can telephone our friendly customer service team on 01789 638166, who will be happy to take your order and answer any questions you may have. 

Monday to Saturday  09:30 - 16:00
Sunday : Email Only.
Our Guarantee.

We guarantee quality, convenience, and satisfaction in each transaction for every customer.
Rest Assured Your Payment Details Are Safe.
Our Website is SSL Certificated Secure. 
You Can See This By The Padlock Symbol Showing In The Top Left Of Your Browser.
Also The Web Address Will Show https, The S Shows It Is A Secure Web Page.
You Can Make A Payment With Your Credit Card, Debit Card, Apple Pay, American Express or Paypal.
No Payment Details Are Ever Stored Giving You Peace Of Mind. 
This Site Is Certified Secure By McAfee. 
Delivery.
Here at Kingfisher Furniture we put the customer at the heart of everything we do, we guarantee a premium service from the moment your order is placed to the moment it's delivered. 

Putting customer satisfaction first every step of the way, we pride ourselves on ensuring your order is delivered professionally by one of our trusted home delivery partners.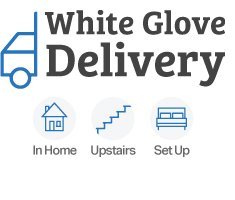 Our premium white glove delivery offers our customers a professional trusted home delivery - our delivery partners are fully trained experts offering a 2-man delivery service to room of choice, installation with all packaging taken away.

Please see individual products to see if they are eligible for our white glove delivery service.
Our Premium White glove delivery is FREE across our Hestia, MiBed, Dunlopillo, Sherborne, Celebrity, Millbrook Beds & Vogue Beds.

Complete Peace Of Mind.

As a valued customer our friendly staff  will keep you updated every step of the way, ensuring that all of our customers experience a hassle-free delivery service that's second-to-none.

The time taken to deliver your goods is dependent on our manufacturer or supplier and if the goods are in stock.

Special Delivery Requirements. 

Your Goods Will Normally Be Delivered Within 2-18 Working Days. However some products, such as made to order and special orders will have a separate delivery schedule. 

If your order is of an urgent nature or you have special delivery requirements please contact our friendly team or simply send us a message and we will be more than happy to help.

Our customer service team on can be contacted on Tel: 01789 638166 or simply email info@kingfisherfurniture.co.uk

Please note that if you live in the following postcodes please contact our friendly customer service team by email or phone before ordering to confirm our installation and delivery team can reach you, DD, IV, KW, AB, FK, HS, PA, PH.
We also only deliver to the UK mainland and do not deliver to PO boxes.
Terms & Conditions.
Official Product Guaranteed.
Kingfisher Furniture are official retail partners of all products listed on our website.
We offer full after sales support. 
VAT free eligible purchases.
Should You be FREE from VAT?
If you have a physical or mental impairment, or if you suffer from a long term illness then you could be exempt from paying VAT on you your adjustable bed or riser recliner armchair.
This VAT relief is available for disabled people when purchasing adjustable beds and riser recliner chairs.

If you are unsure about your eligibility for VAT exemption please seek advice from your GP or alternatively for more information call the VAT Disabled Reliefs Helpline on Telephone: 0300 123 1073.

To qualify you will need to complete and sign the Eligibility Declaration form which we will email or post to you after you purchase an eligible product.
Please note that there are penalties for making false declarations.
Express MiBed Deliveries.
Please note that we cannot deliver to the following postcodes on our express service.
KW,IV,AB,PH,DD,PA.
If you are in the above postcodes, your delivery will take longer.
Old Bed & Mattress Removal And Recycling.
Your old bed frame must be disassembled prior to collection.
Sadly we cannot collect mattresses that are soiled.
Your old bed and mattress will be recycled with 0% going to landfill.
Hestia & Mibed Guarantee.
Full five year manufacturer's Guarantee On All Bed Sets.
This includes the motor, adjustable action & mattress.
Mattresses or Base only orders.
Mattress 5 year guarantee is only valid if used on a Hestia or MiBed adjustable bed base.
Base 5 Year Guarantee is only valid if used with a Hestia Or MiBed mattress.

Guarantee Claims.

The guarantee covers you from manufacturing defects.
To make a claim under your guarantee there will a payable deposit of £80, this is to cover the cost of the engineer visit.
If upon inspection it is found to be a manufacturing fault this will be refunded in full.
Pocket Spring counts.

The pocket spring counts used in product descriptions is the spring count used in a 5ft king size. This is the bed industries standard way of showing pocket counts and is used on all beds in the UK.
TERMS AND CONDITIONS OF SUPPLY
This page (together with the documents referred to in it) tells you the terms and conditions on which we supply any of the products listed on our website www.kingfisherfurniture.co.uk Please read these terms and conditions carefully before ordering any products from our site.  You should understand that by ordering any of our products, you agree to be bound by these terms and conditions.
We store details of your order and these terms and conditions (which together form the contract between us).  
You can find our terms and conditions here at all times and you should print a copy of these terms and conditions for your future reference.
1.  Information about us
1.1 Kingfisher Furniture is a site operated by Kingfisher Furniture
2.  Definitions
2.1 "Customer" means the person who buys or agrees to buy the Products from the Seller.
2.2 "Conditions" means the terms and conditions of sale set out in this document and any special terms and conditions agreed in writing by the Seller.
2.3 "Delivery date" means the date specified by the Seller when the Products are to be delivered.
2.4 "Products" means those goods specified.
2.5 "Price" means the price for the Products including carriage, packing and VAT.
2.6 "Seller" means Kingfisher Furniture
2.7 "Consumer" shall bear the meaning ascribed in section 12 Unfair Contract Terms Act 1977.
3.  Orders and Conditions applicable
3.1 Nothing in these conditions shall affect the Customer's statutory rights as a consumer.
3.2 The Seller shall sell and the Customers shall purchase the products in accordance with any written quotation of the Seller which is accepted by the customer, or any written or verbal order of the Customer which is accepted by the Seller including but not limited to orders placed using the Seller's electronic online ordering service, subject in any case to these conditions, which shall govern the contract to the exclusion of any other terms and conditions subject to which any such quotation is accepted or purported to be accepted, or any such order is made or is purported to be made, by the Customer.
3.3 Any typographical or clerical or other error or omission in any sales literature, quotation, price list, acceptance of offer, invoice or other document or information issued by the Seller shall be subject to correction without any liability on the part of the Seller.
3.4 No statement, description, warranty condition or recommendation contained in any catalogue, price list or advertisement or communication or made verbally by any of our agents or employees shall be construed to enlarge, vary or override in any way thereof any of these conditions. 
3.5 The Customer agrees to pay for any loss or extra cost incurred by the Seller through the Customer instructions or lack of instructions or through failure or delay in taking delivery or through any acts or default on the part of the Customer, its servants, agents or employees.
3.6 The Seller reserves the right to cancel any orders placed, if for any reason the Seller is not able to supply the products ordered by the Customer.  Any payment received by the Seller will be refunded as soon as possible, and in any case, within 5 days of the day we notified you via e-mail of the order cancellation.  The Seller will not be obliged to offer any compensation for disappointment suffered.
4.  Risk and title
4.1 Risk of damage to or loss of the products shall pass to the Customer upon delivery.
4.2 Notwithstanding any other provision herein title in the products shall not pass to the Customer until the Seller has received in cash or clear funds payment in full.
4.3 The Customer shall not be entitled to pledge or in any way charge by way of security for any indebtedness any of the products which remain the property of the Seller, but if the Customer does so all moneys owing to the Seller shall (without prejudice to any other right or remedy on the Seller) immediately become due and payable.
5.   Price and payment
5.1 Save as provided otherwise herein the price shall be that as stipulated in the Seller's published price list current at the date of order of the products. Any event of any increase in the cost to the Seller of raw materials, labour, overheads, or any increase in taxes or duties the Seller may increase the price payable under the contract upon notice. If notice of price increase is given by the Seller, the Customer shall have the right to cancel the order and receive back any sums they have paid. Notice of cancellation must be received in writing by the Seller within 7 days of delivery of the notice of price increase to the Customer.
5.2 Payment of the price shall be due at the date of the order. If the Customer fails to make payment as required the Seller may suspend delivery of the products or any further products ordered until payment is made in full.
5.3 When an order is placed, we will send out an order confirmation by email confirming the order with us. This constitutes a contract between you the Customer and us (Kingfisher Furniture) the Seller.
5.4 Our site contains a large number of products and it is always possible that, despite our best efforts, some of the products listed on our site may be incorrectly priced.  We will normally verify prices as part of our dispatch procedures so that, where a product's correct price is less than our stated price, we will charge the lower amount when dispatching the product to you.  If a product's correct price is higher than the price stated on our site, we will normally, at our discretion, either contact you for instructions before dispatching the product, or reject your order and notify you of such rejection.  We are under no obligation to provide the product to you at the incorrect (lower) price.  The company reserves the right to cancel any orders placed at that price and return in full any payment received.
5.5  Payment for all products must be by bank transfer, credit or debit card.  We accept payment from Visa, Visa electron, Maestro, Solo, Mastercard, American Express, Apple Pay or Paypal.  Payment of the price and delivery charges must be made in full prior to dispatch of the order.  
6.  Products
6.1 The quantity and description of the products shall be set out in the Seller's quotation.
6.2 The Seller may make any changes in the specification of the products which do not materially affect their quality or performance required to conform with any applicable statutory requirements where the products are supplied to the Seller's specification.
6.3 Dimensions where specified, are supplied by the manufacturers and displayed by us in good faith. They should be regarded as being for assistance only. If you are ordering an item where accurate dimensions are important, please contact us before ordering and we will make further enquiries on your behalf.
6.4 Photographs are for illustrative purpose only, and shades can appear very slightly different between browsers and between batches of materials.
7.  Acceptance of the Products
7.1 Other than where the Customer acts as a consumer the Customer shall be deemed to have accepted the Products 7 working days after delivery to the Customer.
7.2 After acceptance the Customer shall not be entitled to reject products which are not in accordance with the contract. Please check all items thoroughly before signing the delivery disclaimer which will be handed to you on delivery. Upon accepting the items they should be checked and then signed for, any damages should be noted on the consignment sheet, if there is clear damage the goods should be refused by the Customer, who should in turn call our Customer services department.  It is your responsibility to examine the goods for damage prior to signing for receipt of the goods. If you are not pleased with the condition of the goods you should inform the driver and refuse delivery.
7.3 Defective products must be notified to the Seller by email within 3 days of delivery, failure to do so shall be deemed as acceptance of the goods.
8.  Returns and Cancellation
8.1 An order may be cancelled at any time between the placement of the order and 14 days following delivery of the goods.   You have a further 14 days in which to send the goods back to Kingfisher Furniture. This does not apply to items made to order or to a Customer's specification or fabric (see Paragraph 8.5 below) or to sealed goods which are not suitable for return due to health protection or hygiene reasons (mattresses), if unsealed after delivery or to goods which have been assembled.  Please take reasonable care of the goods - we are entitled to deduct an amount from the refund to reflect any loss in value of the goods supplied.
8.2 You must inform us in writing, or in another durable medium, if you wish to cancel. This includes letter or email. A phone call is not acceptable. Please contact us as soon as possible to inform us that you wish to cancel your order, by e-mailing info@kingfisherfurniture.co.uk  We regret that we cannot accept a cancellation after the 14-day period has expired.
8.3 Any money which you have paid minus the cost of collection/return carriage cost will be refunded provided that the Seller receives the goods in the original condition and packaging they were in at the time of delivery to the Customer.  We will usually refund any money received from you using the same method originally used by you to pay for your purchase.  We will process the refund due to you as soon as possible and, in any case, within 5 days of the day we receive the cancelled goods from you. If the item has been marked or damaged then restocking fees, potential repair and cleaning charges may also be deducted from your refund. If you wish to cancel, return or reject an item forming part of a multi-item order and you have been given a discount based on total order value, then, in calculating your refund, we will take into account any lower level of discount that would have been available on the other items in the order had the returned/cancelled item not been included  i.e. the refund given on the returned/cancelled item will be reduced to take into account the lower discount available on the other items in your order as a result of the reduction in total order value arising from the return. 
8.4 Where items are unwanted, you will be responsible for the return postage cost. If you change your mind, you can only return unopened goods. Returned goods should be adequately insured during return postage. Unwanted items must be returned unmarked and in their original packaging.  
8.5 Goods which have been made to order or made to your specification or finished in your required fabric cannot be returned.
8.6 Goods that are defective on arrival with the Customer will be replaced at no additional cost. It is in the Customers own interests to unwrap and fully examine all items at the time of or shortly after delivery (before assembly). All packaging must be checked on delivery before signing the delivery documents from the logistics or courier company.  Any noticeable damage to packaging must be signed for as damaged/item unchecked and noted on the delivery paperwork before the departure of the delivery driver/courier.  If a photograph could be taken, this would enable us to quickly report the issue to logistics and deal with the issue, if you later discover impact damage to an item once unpacked.  
8.7 Faulty or damaged products must be notified to the Seller by email within 3 days of delivery, failure to do so shall be deemed as acceptance of the goods. In the unlikely event that your goods do arrive faulty please e-mail info@kingfisherfurniture.co.uk within 3 days following delivery to report damage, claims must be supported by photographs so that we can arrange for the goods to be returned and replaced.  It is the responsibility of the Customer to show the damage has not been caused by any misuse or mishandling following delivery.  It is the responsibility of the Customer to ensure that all items are ready for the delivery company to collect once an exchange or return has been agreed.  Please ensure any faulty product is returned in its original condition and packaging.  If once the product has been returned and inspected by the manufacturer, it is deemed not to be faulty, you will be responsible for the collection cost.  If goods are defective and have been reported within the timescale required but cannot be repaired or replaced and are subsequently returned/collected and a refund issued, the Customer is not entitled to return any other products from his/her order other than in accordance with these Terms & Conditions and their statutory rights.  
8.8 In the unlikely event that one of our items is to develop a fault within 12 months, please call or email us to discuss the options. Your options may vary depending on the individual circumstances including the length of time that you have had the product and the nature of the fault. If, having considered the circumstances, the Seller agrees to a replacement or a repair and the fault is deemed to be manufacturing, then the Seller will exchange from or send a technician to the GB delivery address or, if the Customer has moved home, from and to a location which is no further than the GB address to which it was delivered by the Seller. 
8.9 Please note that, for hygiene reasons, mattresses and beds cannot be returned once the packaging has been removed.  
8.10 Where self-assembly or full/part assembly of products has taken place, these cannot be returned or exchanged, therefore, it is your responsibility to fully check your item prior to assembly.
8.11 Our Returns Information should also be read carefully as they form part of these Terms & Conditions.
8.12 Mattresses & Bed Linen, for hygiene reasons, once opened these cannot be returned.
8.13 If a made to order item is cancelled after ordering but before production has commenced, an administration fee of 3% will be removed from the refunded amount. If the item has entered production, it cannot be cancelled.
8.14 If a deposit is paid for a made to order item and the item is cancelled before delivery or the payment balance is not paid by the agreed date the deposit is non refundable.
9.  Warranties and liability
9.1  We accept no liability for any loss of income or revenue, loss of business, loss of profits or contracts, loss of anticipated savings, loss of data, waste of management or office time or for any indirect or consequential loss or damage of any kind however arising and whether caused by tort (including negligence), breach of contract or otherwise, even if foreseeable.
9.2 Most goods supplied by the Seller come with a manufacturer's warranty of 12 months.
9.3 The Seller does not provide any warranty cover against defects in his own right. Except where the Customer acts as a consumer all other warranties, conditions and terms relating to fitness for purpose, satisfactory quality or conditions of the products whether implied by statute or common law or otherwise are excluded to the fullest extent of the law.
9.5 Insofar as is permitted by law, our only liability to you under these terms and conditions will be, at our sole discretion, to make good any shortage or non-delivery, to replace or repair any goods which are received by you in a damaged or defective state or to refund to you any sums actually paid by you for the goods in question. We will not be liable to you for any indirect or consequential loss or damage arising out of any problem you notify to us and will have no liability to you for any failure or delay in delivering goods or any damage or defect in goods delivered which is caused by any event or circumstance which is beyond our reasonable control. Nothing in this clause affects your statutory rights as a consumer.
10.  Written communications
Applicable laws require that some of the information or communications we send to you should be in writing.  When using our site, you accept that communication with us will be mainly electronic.  We will contact you by e-mail or provide you with information by posting notices on our website.  For contractual purposes, you agree to this electronic means of communication and you acknowledge that all contracts, notices, information and other communications that we provide to you electronically comply with any legal requirement that such communications be in writing.  This condition does not affect your statutory rights. 
11. Notices  
All notices given by you to us must be given to Kingfisher Furniture, The Showroom, Avon House, 4 Mulberry Street, Stratford-Upon-Avon, CV37 6RS
Tel : 01789 638166 or info@kingfisherfurniture.co.uk We may give notice to you at either the e-mail or postal address you provide to us when placing an order, or in any of the ways specified in paragraph 10.  Notice will be deemed received and properly served immediately when posted on our website, 24 hours after an e-mail is sent, or three days after the date of posting of any letter.  In proving the service of any notice, it will be sufficient to prove, in the case of a letter, that such letter was properly addressed, stamped and placed in the post and, in the case of an e-mail, that such e-mail was sent to the specified e-mail address of the addressee. 
12. Transfer of rights and obligations
12.1 The contract between you and us is binding on you and us and on our respective successors and assigns. 
12.2 You may not transfer, assign, charge or otherwise dispose of a contract, or any of your rights or obligations arising under it, without our prior written consent. 
12.3 We may transfer, assign, charge, sub-contract or otherwise dispose of a contract, or any of our rights or obligations arising under it, at any time during the term of the contract. 
13.  Events outside our control
13.1 We will not be liable or responsible for any failure to perform, or delay in performance of, any of our obligations under a Contract that is caused by events outside our reasonable control (Force Majeure Event). 
13.2 A Force Majeure Event includes any act, event, non-happening, omission or accident beyond our reasonable control and includes in particular (without limitation) the following:
(a)   Strikes, lock-outs or other industrial action.
(b)   Civil commotion, riot, invasion, terrorist attack or threat of terrorist attack, war (whether declared or not) or threat or preparation for war.
(c)   Fire, explosion, storm, flood, earthquake, subsidence, epidemic or other natural disaster.
(d)   Impossibility of the use of railways, shipping, aircraft, motor transport or other means of public or private transport.
(e)   Impossibility of the use of public or private telecommunications networks.
(f)    The acts, decrees, legislation, regulations or restrictions of any government.
13.3 Our performance under any contract is deemed to be suspended for the period that the Force Majeure Event continues, and we will have an extension of time for performance for the duration of that period.  We will use our reasonable endeavors to bring the Force Majeure Event to a close or to find a solution by which our obligations under the contract may be performed despite the Force Majeure Event. 
14.  Waiver
14.1 If we fail, at any time during the term of a contract, to insist upon strict performance of any of your obligations under the contract or any of these terms and conditions, or if we fail to exercise any of the rights or remedies to which we are entitled under the contract, this shall not constitute a waiver of such rights or remedies and shall not relieve you from compliance with such obligations.
14.2 A waiver by us of any default shall not constitute a waiver of any subsequent default.
14.3  No waiver by us of any of these terms and conditions shall be effective unless it is expressly stated to be a waiver and is communicated to you in writing in accordance with paragraph 11 above.
15.  Severability  
If any of these terms and conditions or any provisions of a contract are determined by any competent authority to be invalid, unlawful or unenforceable to any extent, such term, condition or provision will to that extent be severed from the remaining terms, conditions and provisions which will continue to be valid to the fullest extent permitted by law. 
16.  Entire agreement 
16.1 These terms and conditions and any document expressly referred to in them represent the entire agreement between us in relation to the subject matter of any contract and supersede any prior agreement, understanding or arrangement between us, whether oral or in writing.
16.2  We each acknowledge that, in entering into a contract, neither of us has relied on any representation, undertaking or promise given by the other or be implied from anything said or written in negotiations between us prior to such contract except as expressly stated in these terms and conditions.
16.3 Neither of us shall have any remedy in respect of any untrue statement made by the other, whether orally or in writing, prior to the date of any contract (unless such untrue statement was made fraudulently) and the other party's only remedy shall be for breach of contract as provided in these terms and conditions. 
17.  General 
17.1 Care, inspection and handling of goods
Wood will exhibit variations in colour, tone and grain pattern and within individual pieces of furniture and between different items of furniture from the same range. This is not a fault but a natural feature of the material. Wood will also transform colour as it ages. Again this is not a fault but part of the natural characteristics of the material.
It is not uncommon for wooden furniture to crack or split as the timber settles; this happens more frequently with waxed furniture and is completely normal.  Excessive heat and drying can cause your wooden furniture to crack or split as wooden furniture will swell in damp conditions and shrink in hot, dry conditions.  Unsteady changes in temperature or humidity will cause the moisture within the wood to be affected which causes tension within the material, therefore, changing your thermostat gradually as the seasons change should help to prevent this.  We would advise against placement of wooden furniture directly on top of underfloor heating and/or close to radiators and/or, similarly, in a location affected by direct sunlight/natural elements/weather for a example a conservatory or any other natural factors. 
Waxed furniture requires regular wax treatments to maintain its appearance. The wax is just a coating on bare wood, and as such the wood will display shiny marks where the wax may have been rubbed. This is natural and unavoidable.
No wooden products are stain or heat resistant, though a lacquered product offers slightly better protection.
No refunds will be payable for damage caused by mishandling furniture or misuse of furniture.  
We will not be responsible for any damage or defect arising from moving the furniture from the location it is delivered to a different location.
17.2 Distressed furniture
Customers are required to familiarize themselves with what is commonly understood by the terms 'distressed finish' and 'distressed furniture' before ordering such items. These terms mean the goods will display a variety of imperfections to the surfaces, such as flaking or incomplete paintwork, cracked, or lacquer, marks, splits or cracks to the surfaces or any other spots purposely intended to create a worn, aged or re-used appearance.
17.3 Painted furniture
Wood and wood-based furniture has natural inconsistency in the absorbency of its surfaces. It is unavoidable therefore this will result in some colour variations in the finish on production of mass-market painted furniture. There are also variations in colour finishes as represented on the internet due to technical factors, such a lighting of the furniture when photographed or editing of images. Paint is usually only applied to the external surfaces of furniture. Inner surfaces will either be in bare wood or a thin coat.
18.  Insolvency of Customer
18.1 This clause applies if:
-The Customer makes any voluntary arrangements with its creditors or becomes subject to an administration order or (being an individual or firm) becomes bankrupt, or (being a company) goes into liquidation (otherwise than for the purposes of amalgamation or reconstruction) or
-An encumbrance takes possession, or a receiver is appointed, of any of the property or assets of the Customer, or
-The Customer, not being a consumer, ceases, or threatens to cease, to carry on business, or
-The Seller reasonably apprehends that any of the events mentioned above is about to occur in relation to the Customer and notifies the Customer accordingly.
18.2 If the clause applies, without prejudice to any other right or remedy available to the Seller, the Seller shall be entitled to cancel the contract or suspend any further deliveries under the contract without any liability to the Customer, and if the products have been delivered but not paid for the price shall become immediately due and payable that despite any previous arrangement or agreement to the contrary 
19.  Headings
19.1 The headings of the clauses in these conditions are intended for reference only and will not affect the construction of these conditions. 
20.  Our right to vary these terms and conditions
20.1 We may revise these terms of use at any time and without notice by amending this page. You are expected to check this page from time to time to take notice of any changes we made, as they are binding on you. Some of the provisions contained in these terms of use may also be superseded by provisions or notices published elsewhere on our site.
21.  Delivery 
21.1  Delivery of the products shall be made by the Seller or an agent notifying the Customer about delivery to such place as the Customer may specify at the time the order is placed.
21.2 We may accept special delivery instructions at the time of ordering online or when ordering by phone. By giving these instructions you are accepting responsibility for your order delivery and understand that no claim can be made against our courier company or Kingfisher Furniture for missing / stolen / damaged items under these instructions.
21.3 Upon receipt of your order, Kingfisher Furniture will send you an order confirmation, via e-mail. Where items ordered are in stock, we aim to dispatch orders within 1 – 21 days.  Otherwise, lead times vary depending upon the item ordered - estimated delivery times are shown on each product page.  The Seller will make every effort to keep you updated of any changes to estimated lead times.
21.4 The Seller shall use his reasonable endeavours to meet any date agreed for delivery. Whilst we make every effort to ensure delivery within the stated timescale, we shall not be liable for any losses, costs, damages or expenses incurred by the Customer or any third party arising directly or indirectly out of any failure to meet any estimated delivery time.  In any event time of delivery shall not be of the essence.
21.5 Please be advised that whilst every care will be taken by the delivery drivers, we cannot be held responsible for any damages that occur to your property or possessions whilst the delivery (or assembly if relevant) is in progress. Please therefore take care to cover any carpets or furniture or floors and remove pictures and valuables from the delivery area. If in the unlikely event any damage is caused within your property, notwithstanding it having been protected, this must be identified to the driver prior to departure and noted on the paperwork.
21.6 In the event of any delays with stock availability issues, we will keep Customers regularly informed as to the estimated delivery time of goods.
21.7 Orders for delivery to addresses within mainland GB are delivered free, however there are excepted postcodes.  See Delivery page for further information, which form part of these terms and conditions.  Deliveries to excepted postcodes will attract a charge and may take slightly longer than the lead times shown for each product.  
21.8 Should your postcode attract a delivery charge and this is shown in the delivery terms, we will email you a quote for special delivery. To determine the precise charge or lead time before placing your order, please contact us on 01789 638166 or email your postcode to info@kingfisherfurniture.co.uk  
21.9  Furniture / large items are delivered directly to your home in specially equipped furniture vans and are carried in by delivery staff. You will receive a telephone call or text or email to agree a time convenient to you prior to delivery.  Where a delivery date/slot has been agreed with our carrier but the Customer isn't present to receive the delivery we reserve the right to charge the Customer a minimum of £40.00 to cover part of the cost of the failed delivery.
21.10 Due to size and weight, certain products are suitable for delivery by a one-man courier service or an express courier service to your front door with delivery attempted between the hours of 8 and 7pm.  If we use an express courier service, items will be delivered between 1-2 working days from the date they are collected from us/our supplier by our courier, however it can occasionally take longer.  Where possible, with our express courier service, we will send you a tracking email once the items have been collected from our warehouse/supplier to enable you to track your delivery and plan for its arrival. With our express courier service, you will need to be available to receive your delivery between the hours of 7 and 7pm. 
21.11 All packaging must be checked on delivery before signing the delivery documents from the logistics or courier company.  Any noticeable damage to packaging must be signed for as damaged/item unchecked and noted on the delivery paperwork before the departure of the delivery driver/courier.  If a photograph could be taken, this would enable us to quickly report the issue to logistics and deal with any replacement if you later discover impact damage to an item once unpacked.
21.12 Please check both external access to your property and internal access to the room where the furniture is to be sited. Narrow or spiral staircases and lower ceilings may prevent access for large items. Please ensure the measurements of any access entrance are assessed in relation to the item dimensions, which are clearly stated in the product details for individual items. We reserve the right to charge the Customer a minimum of £60.00 to cover part of the cost for any failed deliveries in relation to accessibility issues.
21.13 Our Delivery information should also be read carefully as they form part of these Terms & Conditions.
21.14 Kingfisher Furniture reserves the right to amend the delivery charges at any time.
Terms of website use
This page (together with the documents referred to on it) tells you the terms of use on which you may make use of our website kingfisherfurniture.co.uk. Please read these terms of use carefully before you start to use the site. By using our site, you indicate that you accept these terms of use and that you agree to abide by them. If you do not agree to these terms of use, please refrain from using our site.
Information about Kingfisher Furniture  Our address: Kingfisher Furniture, The Showroom, Avon House, 4 Mulberry Street, Stratford-Upon-Avon, CV37 6RS
Tel : 01789 638166. Contact: Info@kingfisherfurniture.co.uk
Accessing our site
Access to our site is permitted on a temporary basis, and we reserve the right to withdraw or amend the service we provide on our site without notice (see below). We will not be liable if for any reason our site is unavailable at any time or for any period.
You are responsible for making all arrangements necessary for you to have access to our site.  You are also responsible for ensuring that all persons who access our site through your internet connection are aware of these terms, and that they comply with them. 
Intellectual property rights
We are the owner or the licensee of all intellectual property rights in our site, and in the material published on it.  Those works are protected by copyright laws and treaties around the world. None of the content of the website may be downloaded, reproduced, transmitted, copied, stored, sold or distributed without the prior written consent of the copyright holder. This excludes downloading, copying and/or printing of pages solely for your personal, non-commercial use.  All such rights are reserved.
You must not modify the paper or digital copies of any materials you have printed off or downloaded in any way, and you must not use any illustrations, photographs, video or audio sequences or any graphics separately from any accompanying text.
Our status (and that of any identified contributors) as the authors of material on our site must always be acknowledged.
You must not use any part of the materials on our site for commercial purposes without obtaining a licence to do so from us.
If you print off, copy or download any part of our site in breach of these terms of use, your right to use our site will cease immediately and you must, at our option, return or destroy any copies of the materials you have made.
Reliance on information posted
Commentary and other materials posted on our site are not intended to amount to advice on which reliance should be placed. We therefore disclaim all liability and responsibility arising from any reliance placed on such materials by any visitor to our site, or by anyone who may be informed of any of its contents.
Our site changes regularly
We aim to update our site regularly, and may change the content at any time. If the need arises, we may suspend access to our site, or close it indefinitely. Any of the material on our site may be out of date at any given time, and we are under no obligation to update such material.
Our liability
The material displayed on our site is provided without any guarantees, conditions or warranties as to its accuracy. To the extent permitted by law, we, other members of our group of companies and third parties connected to us hereby expressly exclude:
All conditions, warranties and other terms which might otherwise be implied by statute, common law or the law of equity.
Any liability for any direct, indirect or consequential loss or damage incurred by any user in connection with our site or in connection with the use, inability to use, or results of the use of our site, any websites linked to it and any materials posted on it, including, without limitation any liability for:
loss of income or revenue;
loss of business;
loss of profits or contracts;
loss of anticipated savings;
loss of data;
loss of goodwill;
wasted management or office time; and
for any other loss or damage of any kind, however arising and whether caused by tort (including negligence), breach of contract or otherwise, even if foreseeable.
This does not affect our liability for death or personal injury arising from our negligence, nor our liability for fraudulent misrepresentation or misrepresentation as to a fundamental matter, nor any other liability which cannot be excluded or limited under applicable law.
Information about you and your visits to our site
We process information about you in accordance with our privacy policy.  By using our site, you consent to such processing and you warrant that all data provided by you is accurate.
Transactions concluded through our site
Contracts for the supply of goods formed through our site or as a result of visits made by you are governed by our terms and conditions of supply.
Viruses, hacking and other offences
You must not misuse our site by knowingly introducing viruses, trojans, worms, logic bombs or other material which is malicious or technologically harmful. You must not attempt to gain unauthorised access to our site, the server on which our site is stored or any server, computer or database connected to our site. You must not attack our site via a denial-of-service attack or a distributed denial-of service attack.
By breaching this provision, you would commit a criminal offence under the Computer Misuse Act 1990. We will report any such breach to the relevant law enforcement authorities and we will co-operate with those authorities by disclosing your identity to them. In the event of such a breach, your right to use our site will cease immediately.
We will not be liable for any loss or damage caused by a distributed denial-of-service attack, viruses or other technologically harmful material that may infect your computer equipment, computer programs, data or other proprietary material due to your use of our site or to your downloading of any material posted on it, or on any website linked to it.
Linking to our site
Our site must not be framed on any other site, nor may you create a link to any part of our site. 
Links from our site

Where our site contains links to other sites and resources provided by third parties, these links are provided for your information only.  We have no control over the contents of those sites or resources, and accept no responsibility for them or for any loss or damage that may arise from your use of them. 
Jurisdiction and applicable law
The English courts will have exclusive jurisdiction over any claim arising from, or related to, a visit to our site [although we retain the right to bring proceedings against you for breach of these conditions in your country of residence or any other relevant country].  These terms of use are governed by English law.
Privacy Policy.
Kingfisher Furniture takes the privacy of its customers' data very seriously. Please read the following policy to understand how we will use your personal data after it has been collected by us through your use of our Website and through the telephone with our Sales Team.
Kingfisher Furniture, The Showroom, Avon House, 4 Mulberry Street, Stratford-Upon-Avon, CV37 6RS are committed to protecting and respecting your privacy.
We therefore take our responsibilities as a Data Controller seriously and aim to manage data in a respectful way, mindful of the wishes of our contacts, and in line with the laws and spirit of the General Data Protection Regulation ((EU)2016/679) ("GDPR").
The purpose of this Privacy Policy is to let you know what data we hold about you, how we use it and who we share it with.  It also sets out your rights under the GDPR legislation.  It applies whether you visit our store, you speak with one of our team on the telephone, or you use our website.
We regularly review and, if necessary, update this Privacy Policy
Kingfisher Furniture is a company registered within the UK and your data will never be transferred to any company outside the UK. 
What personal data do we hold and process?
Kingfisher Furniture may hold some or all of the following information about you
• Your name
• Your contact details, including address, telephone number(s) and email address
• The contact details of any other individual you have told us can speak on your behalf
• Your gender and age bracket
• Certain medical conditions you have informed us about which are relevant to your purchase, including whether you qualify for VAT exemption because of them
• Enquiries you have made about products and your product preferences
• Orders you have placed
• The communication you have had with us
• Your preferences for on-going communication
If you use our website, we may collect information such as your location and search preferences.  We also use Google Analytics to collect information about how visitors use our site to help us to improve the user experience.  The data collected is generic, non-identifiable marketing data that does not include personal data linked to individuals, and we cannot identify you as an individual from it.  We also only store data for 26 months after which point it is permanently deleted.
We do not knowingly hold any information relating to children, and interested parties under the age of sixteen should not share their personal information with us.
How do we use your data?
We may use your data
• To provide goods and services to you
• To manage any financial transactions between us
• To enable us to manage customer service interactions with you
• To verify your identity
• For crime and fraud prevention, detection and related purposes
• With your agreement, to contact you about promotional offers and products and services which we think may interest you
• For marketing purposes and to help us better understand your needs
• Where we have a legal right or duty to use or disclose your information (for example in relation to an investigation by a public authority or in a legal dispute)
What is the Lawful Basis under which we hold your data?
The GDPR legislation requires us to state under which Lawful Basis we hold personal information
The normal legal basis for Kingfisher Furniture processing personal information is because there is a Legitimate Interest to do so.   This may be in your interest, where we need to provide you valuable information about our products or services, or may be in our interest, to allow us to carry out the sale and supply of goods and services to our customers.
These Legitimate Interests may include:
• Selling and supplying goods and services to our customers
• Protecting customers, employees and other individuals and maintaining their safety, health and welfare
• For guarantee purposes
• Understanding general trends in our customers' preferences, and needs
• Complying with our legal and regulatory obligations
• Handling customer contacts, queries, complaints or disputes
We also need to hold certain information, such as financial transactional information, as a result of a Legal Obligation to comply with the legal, taxation and accounting regulations which govern our activities.
We would like to keep in contact with our customers and supply on-going communication such as a newsletter or marketing information, however we will only do this when we have your specific permission to do so.  This is known as Consent, and you have the right to withdraw your consent at any time.
How long do we hold your data for?
We will not retain your data for longer than is necessary for the purposes set out in this Policy. Different retention periods apply for different types of data.
After this period we will erase your personal information, or archive it so it is beyond use.
Who do we share personal data with?
Kingfisher Furniture provides a carefully selected, number of trusted third parties with personal data where necessary to allow our business to carry out its activities.  These may include
• Carrier organisations who may deliver or collect your goods on our behalf
• Third party companies who supply products or other services on our behalf
• Financial organisations who process payments on our behalf
We do not sell your information to anyone.
What rights do you have with respect to your personal information?
Under the GDPR legislation, you have the following rights:
• Right of access to all the data we hold about you
• Right to correct any information we may hold about you that you believe to be inaccurate
• Right to be forgotten, whereby we will remove all information we hold about you
• Right to lodge a complaint if you believe your rights are being violated
Also, where consent to be contacted for marketing activities has been granted for one or more means of communication, you have the right to withdraw this consent for any one or more of the forms of communication.
These rights are not absolute and only apply in certain circumstances.
If you would like to exercise any of the rights you have with regard to your personal information that Kingfisher Furniture hold about you, then please write to
Data Privacy
Kingfisher Furniture, The Showroom, Avon House, 4 Mulberry Street, Stratford-Upon-Avon, CV37 6RS

Or alternatively:
Telephone our Customer Services Team on 01789 638166
email us at info@kingfisherfurniture.co.uk
After 25th May 2018 you do not have to pay us a fee for this unless we believe your access request is unfounded, repetitive or excessive.  In this case we may charge you a reasonable fee or may decide not to comply with your request.  We will notify you if this is the case.
In order to comply with a request to exercise one of your rights, we will require you to provide appropriate evidence of your identity.  Typically this evidence will be a photocopy of your passport or photo driving licence which an independent professional, for example a solicitor, accountant or bank has certified as being a true copy of the original, along with a recent utility bill confirming your current address.