Here At Kingfisher Furniture We Are Committed To Providing The Highest Standard In Customer Service.
This is what our customers are saying about their shopping experience with us at Kingfisher Furniture:
Click Here to See Our Latest Customer Feedback.
"Thanks for all your help with organising the supply and delivery of the new bed. Everything was done with ease and a smile including the phone updates. Nina sounds like she enjoys her work and always sounded upbeat. Delivery guys bang on time and got everything ready in no time. Very covid aware, friendly and clean workers. The new bed is brilliant and no doubt will improve health condition. Thanks again for great service and if anyone asks about the products then we will definitely recommend they contact you. 
Good luck for the future. Eddy and Linda Taylor "
Kingfisher MiBed Adjustable Bed.

"Dear Nina
Thank you again for your support throughout the whole process of selecting, purchasing and smooth delivery of a suitable adjustable bed for my Dad.  Your product knowledge and customer service was above and beyond expectations.  Dad is very pleased with the quality and workmanship of his new bed.  Mission accomplished!
Thank you also for registering the guarantee on his behalf.
Best regards
Susan"

Kingfisher MiBed Adjustable Bed.
"Hello Nina
Just a quick email to let you know that the adjustable bed I purchased was excellent quality it is a long time since i have slept so comfortably, very high quality and reasonably priced.
The customer care I received was second to none would certainly recommend this company to anyone.
Take care  
John"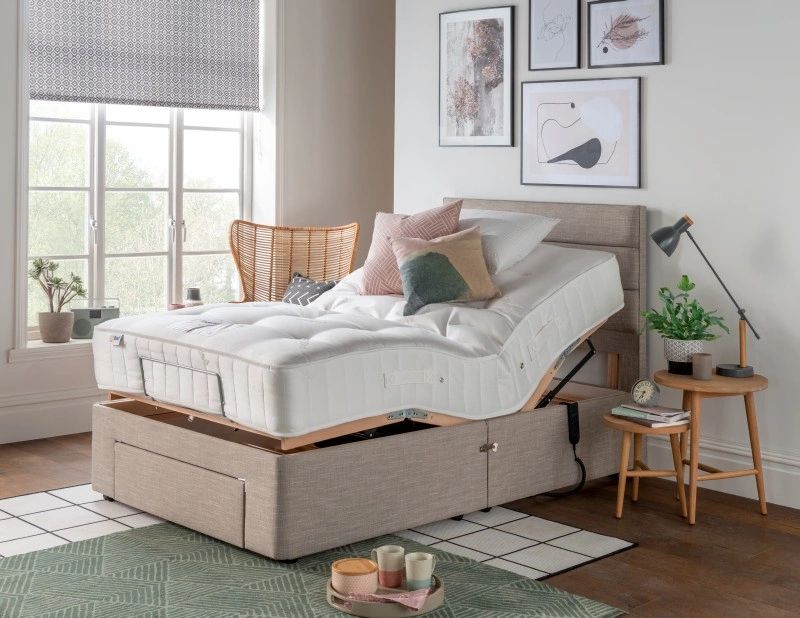 Kingfisher MiBed Adjustable Bed.
"Hi Nina, I don't normally send feedback to companies but I will make an exception in this case. Right from my first enquiry with you at Kingfisher Furniture you were brilliant. Your advice was perfect for what I required and the service has been outstanding, the bed being delivered ahead of time and all fitted perfectly with no fuss by the two delivery guys who showed me how everything worked. There was no mess and they took my old bed away as requested. The service you provided by keeping me up to date with delivery etc and a courtesy call after delivery was excellent and I would like to thank you for your friendly advice, help and overall service. It was a pleasure to buy from Kingfisher and I would recommend you to my friends and family without hesitation in the future. 
Thanks again 
Martin"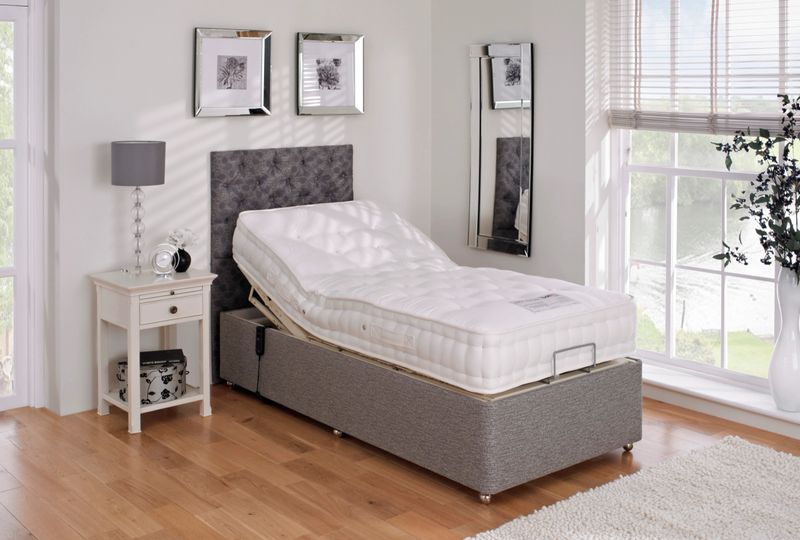 Kingfisher MiBed Adjustable Bed.
"The service we received for the purchase of our adjustable beds was truly exceptional from beginning to end. Nina went out of her way to help us through the process, she was extremely knowledgeable, helpful, friendly and courteous. She went out of her way to make the whole process run very smoothly. When the beds arrived,  Jason and his colleague were lovely, although we were shielding due to Covid 19 everything went without a hitch.
We are very happy with the quality of the beds, they are comfortable and are exactly what we wanted.
We would certainly recommend anyone to put their trust in this company.  
Kindest Regards
Les & Sylvia Allsopp
Hull"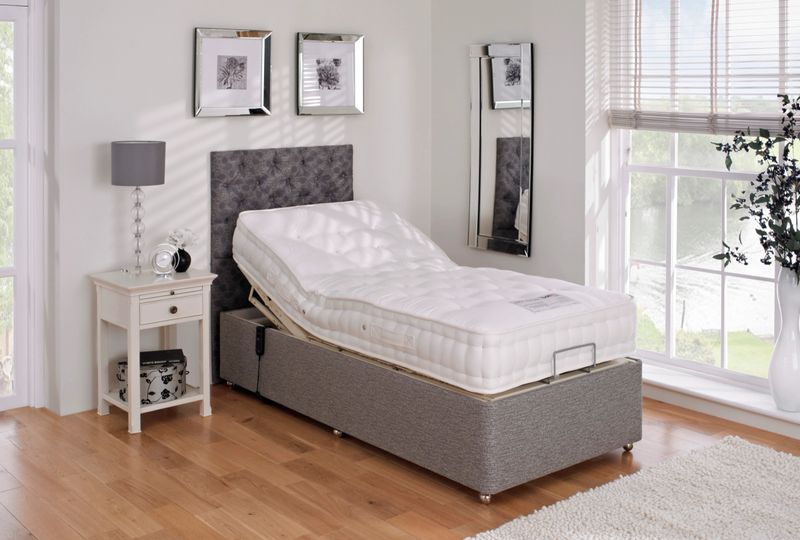 Kingfisher MiBed Adjustable Bed.
"I recently purchased a special mattress for my Mibed electrical bed. I have been dealt with and kept up to date by some very special staff none more so than Nina who Has gone out of the way to be as helpful as possible, and finished off by a very helpful delivery man. As an 89 year old War veteran I find it very refreshing to still get such excellent service
Ronald Yardley"

Kingfisher MiBed Adjustable Bed.
"I would like to thank you for the help and assistance you gave me in the selection of my two adjustable beds. The whole procedure was stress-free and the beds arrived earlier than expected.
We are very pleased with the beds and would not hesitate in recommending you and Kingfisher in the future.
Regards
Pam Schofield"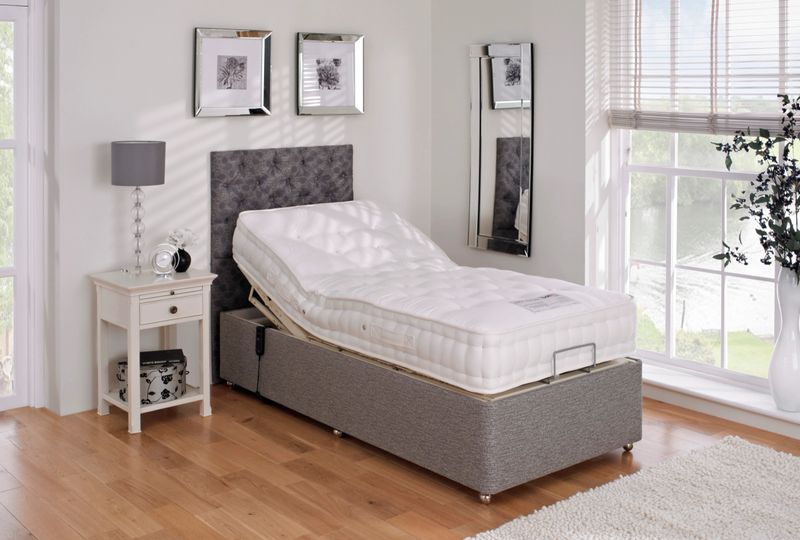 Kingfisher MiBed Adjustable Bed.
"Good morning Nina 
This is just a quick thank you for the excellent service you have provided. 
I am very impressed with the level of care you and your company have provided to us,I hope this proves that with thought and consideration to the customer Your business will continue to survive with all the problems around today. 
Many thanks 
Ian"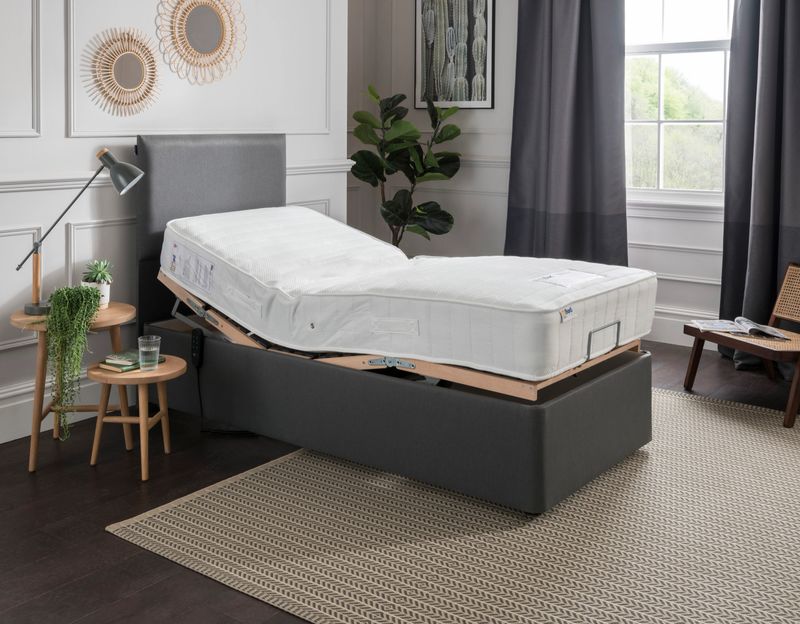 Kingfisher MiBed Adjustable Bed.
"I would highly recommend Kingfisher furniture for any one's bespoke bed needs.  I was looking for an adjustable bed for my mother-in-law but unfortunately due to ill health she was unable to visit any showrooms. I contacted Kingfisher directly and spoke on a number of occasions with Nina who was able to talk me through each option before we settled for the Mibed Poppy.  Our order was delayed due to the COVID-19 lockdown however Nina remained in contact.  Once restrictions had been lifted Nina arranged for the bed to be delivered.  My mother-in-law loves her new bed!  Where she would need to get up throughout the night this has now drastically reduced and she is having a much more comfortable and safe night sleep."
Carol Cannon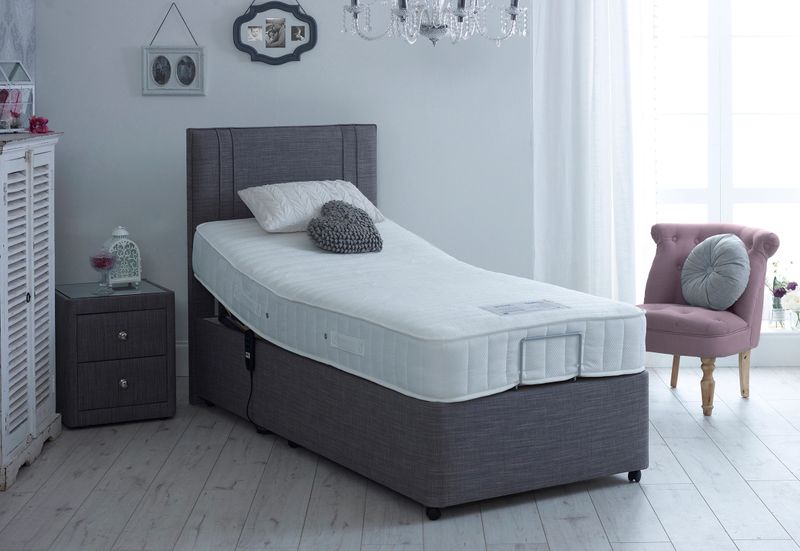 Kingfisher MiBed Adjustable Bed.
"Hello 
My husband is very pleased with his mattress. He finds it very comfortable, felt like he was "floating"!  A good buy
Joan Hainsworth"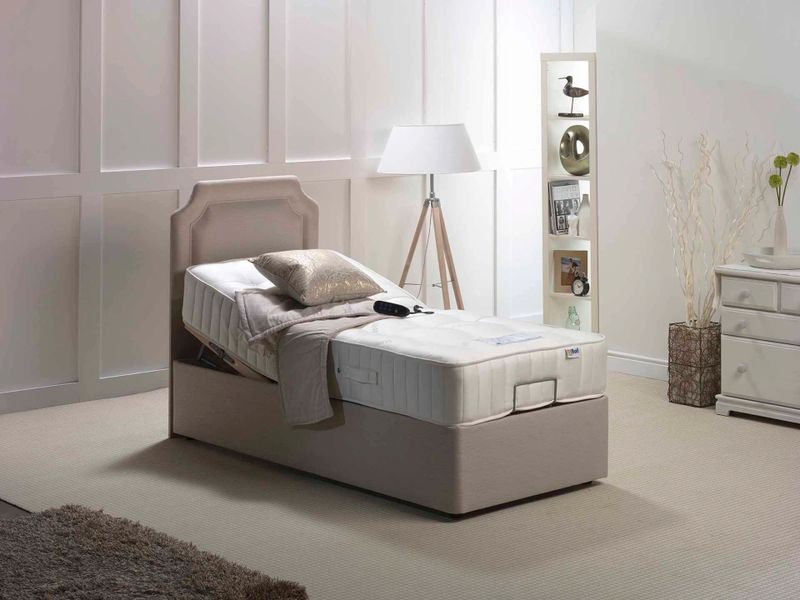 Kingfisher MiBed Adjustable Bed.
"I would like to say how delighted we are with our adjustable bed and a big thank you to Nina for all her knowledge and help, also to Mark for the help when I telephoned. The bed arrived on time and I was kept informed at all stages by Nina. The two men who fitted it were also kind so it all went very well. I highly recommend this company, (I would give ten stars if I could.)"
Dorothy Reid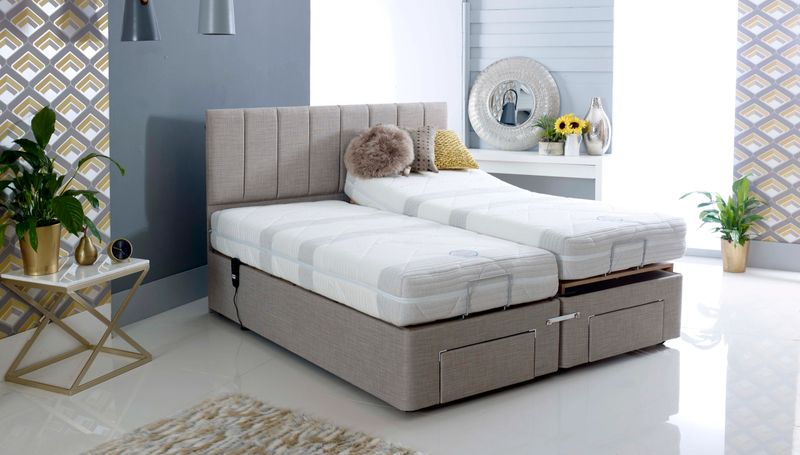 Kingfisher MiBed Adjustable Bed.
"Amazing service from start to finish would highly recommend, so pleased with the bed it looks amazing"

Louise Brown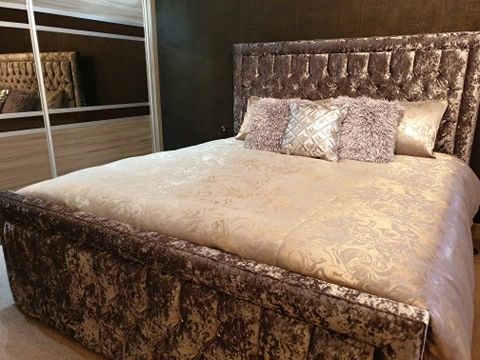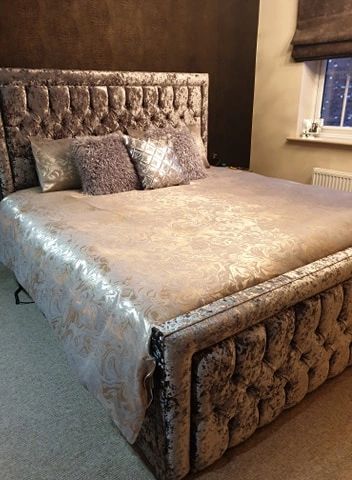 Customers own images.
Kingfisher MiBed Adjustable Bed Frame.
"Dear Nina,
I will be delighted to give you and Kingfisher Furniture feedback. Firstly, I am really pleased with our Dunlopillo beds. They are very comfortable and well made and it was a nice gesture to be also given complimentary mattress protectors.   Secondly, Nina you have provided excellent customer service from the initial order to the delivery time.  You have been so friendly and helpful and made the whole  process seamless and stress free.  I would certainly recommend Kingfisher Furniture and I am so pleased that I have discovered your company.

Mrs Winfield."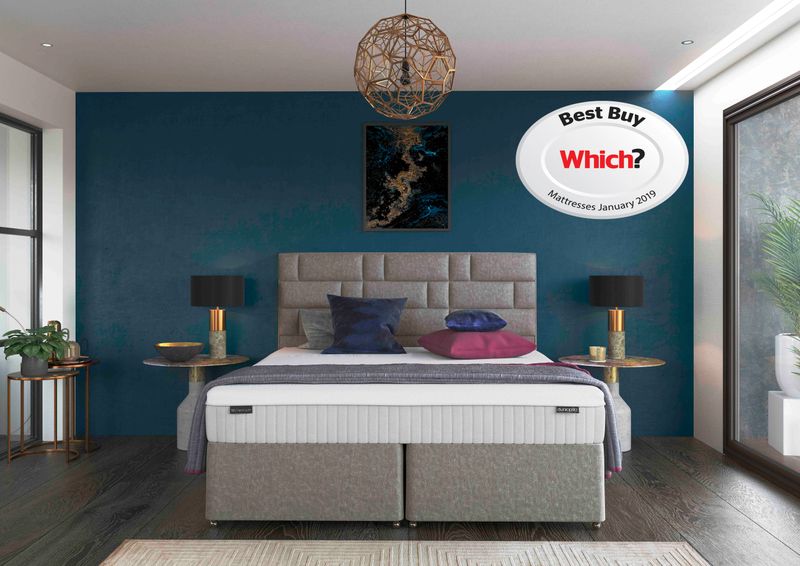 Dunlopillo Divan Bed.
"Dear Nina, 

The lady who won't be beaten, Thank you very much for sparing no effort in finding the perfect bed for me and getting it to me so swiftly.
With best wishes and appreciation from Eleanor x "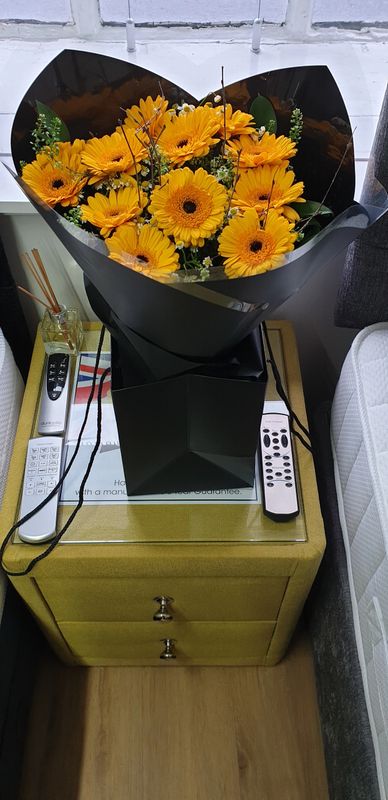 Kingfisher MiBed Adjustable Bed.
"I have received delivery of my Mibed today and am amazed with the fantastic quality, the delivery man took my bed to the room of my choice and even helped set the bed up for me, i was not expecting this and am delighted. I have a back problem and nerve damage and was sleeping on a sofa due to my old bed breaking, i explained this to Nina and she did her upmost to speed delivery up for me, Nina went above and beyond to help me all the way through the ordering process, very polite lady and so very helpful, even after the bed was delivered Nina called me to make sure all went well, she even gave me advice as to where to buy the correct size bedding .... due to my disabilites i shop online all the time, i can honestly say i have never received such a professional, helpful service, Nina .... well done and thank you again so very much, i will happily recommend Kingfisher Furniture"

Gina McGill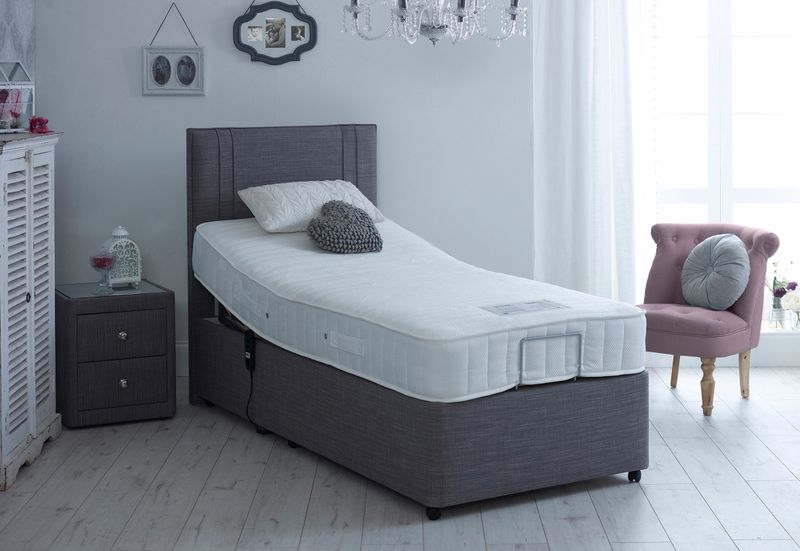 Kingfisher MiBed Adjustable Bed.
"This is to confirm that my experience of buying Mibed Mattress from this business has not only been highly satisfactory but a Pleasant experience. The staff are extremely helpful. The lady. Called Nina who went out of her way to check the execution of the order at each stage. She was eager to help me with my VAT exemption form. I recommend this family business for what they do.

Dr Jitu Shah"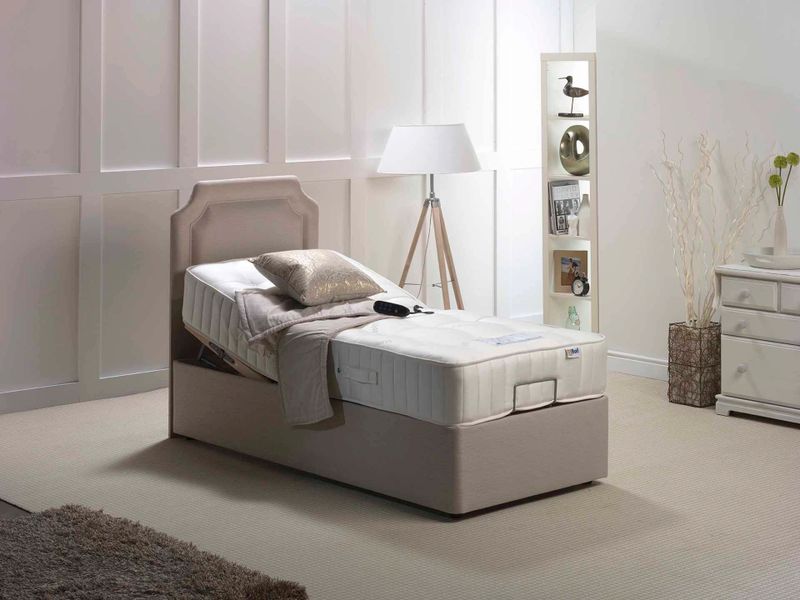 Kingfisher MiBed Mattress.
"Hi Nina. sorry for long delay, busy year, but here is our testimonial
From the moment I contacted Kingfisher Furniture I new it was the right company. Nina was so knowledgeable about all the products. With her help we were able with confidence to choose the correct bed and mattress that suited our needs. Updates on the process of our order and delivery arrangements were first class. The bed was delivered and assembled in a professional way with all packaging removed. We have now had the bed 1 year and I can say that it is the most comfortable bed we have ever had, The bed still looks and feels like new thanks to its quality construction. We would like to thank Nina for her expert advice and first class service. I have no hesitation in recommending this company.
Best Wishes
Dave"
Kingfisher MiBed Elite.
"Hi Nina,
I didn't reply straight away to your email, so I could settle in to my new mattress before commenting. 
I'm very happy with my Holly 2150, and sleeping like a hibernating bear every night! 
Having moved from a medium-soft to a medium-firm, I was worried I'd struggle adapting, but it's been a doddle, and my back ache is already improving. 
Excellent quality, excellent customer service, and an excellent nights' sleep. It's a win-win. 
This my second Kingfisher mattress, and it won't be my last. 
Many thanks. 
Regards,
Steve"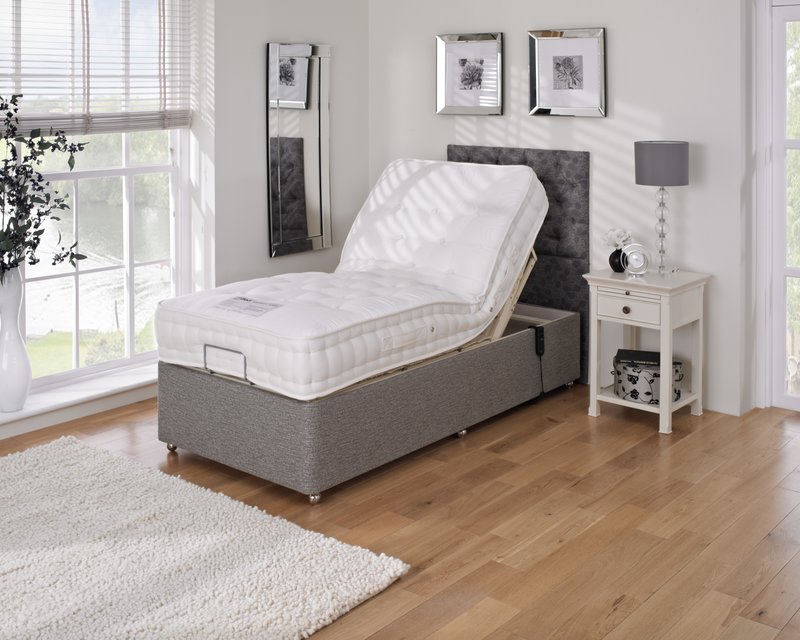 Kingfisher MiBed.
"I highly recommend Kingfisher Furniture for their excellent standards of customer service and quality products.  I was kept informed regarding my order and delivery date/arrangements throughout. Nina was very understanding and helpful when I needed to delay my delivery date, contacting me by phone to make alternative, convenient arrangements.  I was updated on the allotted day with up to date details of arrival time.
The mattresses were unwrapped and placed in situ and the packaging taken away. The delivery guys were friendly and considerate.
I am delighted with my new specialist mattresses and would definitely use the company again. Thank you Nina and Kingfisher Furniture.
Susan Goymer"
Kingfisher MiBed Rose Mattress.
"Hi Nina
         Thank you for your help and experience in helping me choose the correct combination of mattress and adjustable bed for my disabled aunty. She had the best nights sleep in years and is delighted. Nothing was too much trouble for Kingfisher furniture . I was advised without any pressure to buy . The bed arrived when promised on time , and I was kept informed at all stages . If you are looking to purchase an adjustable bed look no further . You will not be disappointed , the prices are comparable and certainly the service can not be bettered . This company comes Highly recommended from my experience.

Regards Jerry Chesterman"
Kingfisher MiBed Adjustable Bed.
"Hi Nina
I just wanted to say a huge thank you for making our bed buying such an easy and pleasant experience from start to finish. Your knowledge of the products and your customer service have been second to none. We are more than happy with our purchase and would not hesitate to buy from Kingfisher Furniture in the future. 
Kindest regards
Cleo "
Kingfisher MiBed Purchase . 
"Hi Nina thank you very much,very pleased with the bed,great service, thanks again.
Mr Bryan Elliott"
MiBed Holly Adjustable Bed.
"After careful research on the internet for a suitable adjustable bed, I am so pleased I found Kingfisher Furniture. From the moment I made my initial  enquiry, I felt like I was important. I had my personalised bed designed, hand built, delivered and assembled in just a few weeks. The fact I could select from so many options, including design of headboard, fabric, specific mattress types and weight bearing were all a bonus. I knew the bed was being built to my specifications and I was extremely happy when it finally arrived. I was kept up to date several times on the phone by the lovely Nina who explained about selecting headboard shape, which material and colour I could use, I was even offered a swatch of material to see if I was completely happy with my choice. My new bed arrived. I was offered a day and time slot, backed up by phone calls.  The bed was assembled professionally and the delivery men were polite and took all the wrappings away with them. The handsets and their different functions were explained. I understand this company is small and family run - this possibly explains why so much personal help is given throughout  the ordering and design procedure. I will be recommending Kingfisher Furniture to all my friends. The bed is exactly what I need, the price was very reasonable and was around a third of the price of a comparable bed I was looking at initially.
Carmen Kemperman, North Wales."
"We recently bought a Dunlopillo mattress, divan base and headboard from Kingfisher Furniture. (our third Dunlopillo bed in the house)
The complete experience proved to be second to none!
Both the owner Mark and Nina who runs the shop, (who by the way is obviously very experienced with Dunlopillo products) found nothing we wanted to be too much trouble and were both a great pleasure to do business with.
We were initially sceptical that a small family business could compete on price with the any of the large online retailers.
Kingfisher were not only competitive, but provided a fantastic level of personal service that these days only a small family business seems capable of.
We would be most happy to use Kingfisher Furniture again and would recommend them unreservedly and without hesitation, for anyone in the market for a new bed.
Kind regards
Alan Webster"
Dunlopillo Bed.
"Hi Nina,
Thank you so much for helping us choose the mattress that suited us. From my initial phone call to you, to keeping us updated on delivery your customer service was first rate. I would have no hesitation in recommending Kingfisher furniture to anyone.

Kind Regards

Graham Hearnden"
"Hi Mark
Just to let you know that we are delighted with the new Dunlopillo mattress and wish we had replaced it earlier.

Many thanks to you for your excellent customer service and the smooth delivery.

Best wishes

Sue and Charlie Wise"
"Great experience getting a new Dunlopillo mattress to replace an exiting mattress. Nina was a great help, very friendly, and everything from purchase to delivery was smooth. We'll be back in eight years or so when it's time to replace this one.
Mr McElhearn"
"Hi
I am extremely pleased with not only the quality of the goods we have bought but also the service I received from start to finish.
Nina was very helpful, and I had many conversations with her before putting in the order and then when the order had gone through leading up to delivery.
She also phoned to make sure I was completely satisfied the day after delivery.
The level of service was really second to none and I would certainly recommend 'Kingfisher furniture' to anyone.
Best wishes 
Joyce Wilde"
MiBed Adjustable Bed.
"We were looking to buy a rise & recliner chair and had a number of bad experiences with a number of so called specialists who came and demonstrated their chairs, none of which where what we had asked to see, and took between 3 and 4 hours per demonstration and were significantly more expensive than Kingfisher. We then found Kingfisher Furniture on Google. We live in the North West but needed to see the product before we bought it so one very wet Saturday morning we set off for the lovely village of Alvechurch. Nina, bless her, gave us a lovely coffee and showed us the chairs they stock. She stayed behind over 2 hours to make sure we were happy, nothing was too much trouble. She kept us informed at every stage and was very pleasant throughout. Nina gives customer good old fashioned excellent customer service and I wouldn't hesitate to recommend her to anyone. Thank you very much.
Jeanette Kelly"
Celebrity Riser Recliner. 
"We were able to buy outstanding products, which came with £16 worth of free gifts, from Kingfisher at the lowest price found on the internet. The products were delivered when we wanted them. Throughout the entire process we were kept up to date by Nina. An excellent experience. try Kingfisher, you will not be dissapointed.
Gavin Robertson"
Dunlopillo Mattresses.
"Thank you so much for making what was potentially a very difficult process, remarkably straightforward.
When I first contacted you I explained the difficult situation we found ourselves in, trying to resolve a significant issue with a previous bed purchase from another supplier.
Whilst those negotiations are still ongoing, they are coming to a close and you have taken a huge burden off our shoulders during that time.
In less than 2 weeks you have turned around a special order to meet the exact needs (and more) of my elderly mother in law.
You understood the urgency from the very beginning and pulled out all the stops to ensure she didn't have to stay in hospital a day longer than necessary.
Your calm and kind nature put me at my ease from Day 1, and I knew we were in good hands.
You kept me updated at every stage, which meant I could provide the reassurance my family needed that everything possible was being one. 
You are a fantastic ambassador for the Kingfisher organisation, and it seems this extends throughout the company.  
Your delivery team Marcus and Simon were enormously helpful and professional too, which is extra peace of mind as I was unable to be there myself to take delivery.
Thank you so much you for all your advice and support, and I won't hesitate in recommending your products and service to family and
friends.
With very best wishes
Mel Stephens"
MiBed Adjustable Bed.
"I am very satisfied  with my purchase and found the care and attention given to my order was outstanding. Nothing was too much trouble although I made many phone calls check on details  of my order. The delivery was very fast and efficient.
I would certainly recommend Kingfisher Furniture without hesitation.
S. Marcus-Kanner"
MiBed Adjustable Bed.
"Hi Nina
Thank you for a fantastic service from start to finish. My mum is really happy with her new bed and couldn't praise the delivery guys enough.
It's been great dealing with such a professional company and have really appreciated all your help, advice and updates throughout.
Kind regards,
Philomena & Mrs Ann O'Neill (Mum)"
MiBed Poppy Adjustable Bed.
"Hello Nina.
 I would like to say a big thank you to you and Kingfisher Furniture for all your help. It was great to find someone who was able to understand what we needed in a mattress and fulfil our needs. The mattresses were delivered by very considerate young men, who arrived exactly when they said they would. 
We are very pleased with our mattresses and I have to say I have slept better since having new mattress and my husband has been able to move better with the firmer mattress. 
I have already recommended your company to a friend and will have no hesitation recommending you to others.
Thank you again to you and kingfisher Furniture."
Mr & Mrs Winterson"
MiBed Holly 2150.
"Great product, but FANTASTIC service!! Helpful and informative when I phoned in. Great product knowledge and awareness of customer needs when we visited the showroom and then managed to get a bed ordered, built and delivered in just a couple of weeks! Good follow-up customer service too. Well done Nina, can't recommend highly enough."
Marcus Weaver
MiBed Holly 2150 Adjustable Bed .
"I cannot recommend this Company highly enough, from the initial phone call from Nina to confirm my order to the delivery and installation of my bed, they were faultless. Nina kept me updated of the progress of my order, which was ready ahead of schedule, and the young men that delivered and assembled it could not have been better. As for the bed itself, it is simply stunning, very easy to use and very comfortable. It is also exceptionally well made. I would not hesitate to recommend this company to anyone needing a stylish new bed, at an unbelievably competitive price."
Tonie Lansdell
MiBed Upholstered Bed Frame.
"Thank you so much for the most amazing care, understanding and service that I received from yourself, Kingfisher Furniture and Keen and Able.  Most importantly the service from yourself.
I had a lovely nights sleep last night on my new lovely just what I need mattress.  I've had issues with 2 previous bed companies which brought me to find yourselves and I'm so very glad that I did.  Just perfect on all aspects.
I wouldn't hesitate to recommend yourself and Kingfisher Furniture to other buyers and would definitely use your services again.
Many thanks
Lesley Joyner"
Millbrook Beds Purchase .
"I Recently purchased A Furmanac Elite Zelda Mibed and am very pleased with the whole experience from order to delivery. A very high level of communication from Nina at Kingfisher Furniture. At time of order i expected several weeks but Nina brought this down to 10 days. A delivery date was determined and the bed arrived on that date and within the time frame. Two men delivered the bed, set it up and were very professional and quick.
Am very pleased with the bed, i am sure it will meet the needs that an adjustable bed gives. Top marks to Kingfisher Furniture and Nina. Alan Purser." 
MiBed Purchase .
"Absolutely top class customer service from your company, from sales agent to delivery men!   
Thank you 
Maureen Goodall"
MiBed Purchase .
"Its a very rare thing for me to actually want to take time to review a product or service, unless I find it more than meets all expectations. In the case of kingfisher Furniture, and definitely the case of its fantastic customer care lady Nina, this is an absolute pleasure to do so. The service, advice , help and constant communication regarding the choice of product, build time and delivery date has been outstanding and one of the best people and places I have ever had the good fortune to deal with. Whether it's price, quality or customer service, if kingfisher Furniture are able to supply the product you are after then do not hesitate to use them. Many thanks for making my experience so pleasant Nina
Dave Standbridge"
MiBed Purchase .
"After searching the website for a new bed for my mother, I came across Kingfisher Furniture and noticed that they sold a make of bed that my mother had previously had. After contacting them, Nina went through various options with me, asking about my mother and how she would be using the bed - not just for night sleeping, general weight/height, mobility. Nina showed me a few options whilst I was on the computer, which she explained in more detail. Rather than rushing the order through she said she would get a few more options and would call me back the following day to go through them. The following day, Nina phoned as promised and several other options were looked at. Everything was explained in detail and decided on one of the options that Nina had recommended. The order was taken, VAT exempt forms were emailed over for sending back and Nina kept me informed by email/text about when the order would be arriving - just over a week. Again the day before the agreed delivery, a text message was sent to give me an a time slot within a 3 hour time scale (8-11pm) and the bed arrived about 9.30am. The guys that delivered it were excellent - nothing was the bother. Mother loves the bed and is really comfortable. This company is first class. Not a company that is just interested in taking your money and pushing a sale, but cares for the end user. Thanks Nina for all your help, I'll certainly be recommending you!
Richard Hunter

Newcastle upon Tyne"
MiBed Purchase .
"Just purchased an adjustable bed, very happy with the service I received from my initial enquiry to delivery and installation , highly recommend thanks."

Andrew Antell
MiBed Purchase .
"Dear Nina
I am writing to express our appreciation for the very fine service we received from you at all stages from the ordering to the delivery of a bed for my father.  Due to the time you spent ensuring that the specifications of the bed fully met our requirements and the speed and efficiency of manufacture and delivery, we received exactly the product we wanted at a timetable which exactly matched our needs.  The standard of the bed itself is equal to the standard of your service - and we can think of no higher praise!

With many thanks again and our very best wishes

Mr & Mrs Crossley"
MiBed Purchase .
"I cannot praise Kingfisher Furniture enough, I have been through a very upsetting time recently but the help and understanding I received from Nina was second to none, I cannot thank her enough for her care and understanding. My bed was delivered when I was told it would be, put together in no time at all by two courteous delivery men and I am highly delighted with my purchase . If the world was made up of people like you Nina, it would be a much nicer place to live in.  Kindest regards Pat Gorringe."
MiBed Purchase .
"I can not recommend this company enough for the help I was given by Nina over what type of mattress and adjustable bed. She spent time talking to me and finding out what my needs and what type of mattresses I have before as I have had difficulty finding the right one for me. As I wanted my bed as soon as possible she sortedit for me and kept me up to date on delivery dates. The two lads that delivered the bed were also excellent they assembled it for me and showed me the controls and made sure I didn't have anymore questions all the packaging was taken away. I would highly recommend this company to anyone looking for furniture. I had been to many sites but I am so glad I called this one absolutely faultless."

Jacqueline Sharp
MiBed Purchase .
"Excellent customer service from Nina. Mi bed is extremely comfortable (Love the little union jack) I would recommend this company"
Sheila Lockhart
MiBed Purchase .
"Purchasing an adjustable bed from Kingfisher Furniture has been a remarkably stress free experience, from the initial discussion with Nina, who could not have been more helpful, through to the 'bang on time' delivery by two very pleasant, polite and happy young men. They took time to demonstrate the bed and left only when they were sure the operation instructions were clearly understood. My wife is thrilled with our Executive 2150 bed, and we experienced a very high level of service. 
Thankyou. Kind regards from Gerald Hooper."
MiBed Purchase .
" I just wanted to say I am so pleased with the new Alpina adjustable bed. You have been so helpful and getting it delivered for when my husband came home from hospital, very quick faultless service. The delivery drivers were very careful getting it up the stairs and setting it up too!  Can't praise Kingfisher Furniture enough! What a lovely caring family business you are!
Many thanks Julie Digby "
MiBed Purchase.
"From the very first contact via an email sent to the Kingfisher website one evening to enquire on products right up to and after delivery, I have received nothing but the best customer service.
My original email was replied to immediately and included links and prices to all the products I had asked about, I was also promised a call back the following day to discuss my query further.  As promised I had a call from Nina whose product knowledge was second to none and since that call I have been kept informed on every single step of my order, I was sent fabric samples and all options were discussed to ensure that I had chosen the most suitable bed for our requirements.

I have now had the most gorgeous bed for a couple of weeks and both myself and my husband have had the best night's sleep in a very long time, everyone who has seen it says it looks like something out of a magazine.  The bed has been manufactured to the highest standard and you can really see the quality, the delivery process and the friendliness of the boys who built it and ensured everything was to our satisfaction was absolutely spot on.

This company really care about their customers and it shows, I would not hesitate to recommend Nina and the team to other people and I would happily return to shop here again.  If I could rate 11 out of 10 I gladly would!

Kind regards

Karen Maxwell."

Scotland. Hestia MiBed Adjustable Bed Purchase.
"Just taken delivery of MiBed Alpina Adjustable Bed and very satisfied with the buying experience.  From

placing the order we had great help from Nina with her in depth knowledge of the product and we were kept informed of the estimated time and delivery of the bed. We chose the two man delivery and installation of the new bed, removal of the old one and all packaging materials which was a smooth and efficient service completed in 35 minutes The bed is well made, good quality and very comfortable. I would have no hesitation in recommending Kingfisher Furniture to any prospective buyer and would like to thank them for the 5 ***** service we received. 
Many thanks
Shirley & Brian"
MiBed Purchase.
"I have a 7 year old  adjustable MiBed with Anna mattress (1000 springs).  Having a bad back with 3 cracked Thoracic Vertebra I wanted to change the mattress to a more firmer one.  All retail outlets contacted stated that all the firm mattresses they had or could obtain were not suitable for an adjustable bed.

 In desperation I  used 'Google' to find MiBed, and up came Kingfisher Furniture !!
How lucky that was!!
Even more lucky was to speak to Nina. She was a mine of information. Helped me no end in finding me a firm mattress for my adjustable bed. It was a mattress (2150 springs), made for and by MiBed. Just what I wanted.
Ordered and delivered within 7 days.
All in all what wonderful service.  Extremely well recommended from start to finish.
Customer in SELSEY, West Sussex."
MiBed Purchase.
"May I thank you for your excellent service especially from Nina. following my purchase of two
Furmanac Diane adjustable beds.absolutely Brilliant.
Regards Stephen R.Field.
MiBed Purchase.
"Hello Nina 
Just to say thanks for your kindness and helpfulness on the telephone the other day . I needed the bed delivered fast and you managed it 👍
My guests won't have to sleep on the floor .
Great polite service at a good price , your company will go far 👍👍👍
Regards lance "
Divan Bed Purchase.
"Buying an adjustable bed is a minefield. Most providers wish to bring one demonstration bed to your home and hard sell a "pig in a poke".
I was pleased to find the well laid out "Adjustable Bed" section of Kingfisher Furniture.
Their site was very clear and more detailed than most others I visited. 
Their service was exemplary and I give particular praise to Nina.
She gave unbiased advice and was unstinting with her time even phoning back with further information but never a hint of pressure to buy.
I was informed about Mi-beds and Healthbeds of Rotherham and, in particular, their wallhugger beds. I was able to arrange a visit to Healthbeds large showrooms where I was given unrushed attention and full details of what I had chosen  before further discussion  with Nina and ordering through Kingfisher Furniture.
Kingfisher Furniture fulfilled their contract on time and kept me informed of progress right up to delivery. They also made a follow up call to check that delivery had gone well and that I was satisfied with the service.
C.J.C.

Upton-upon-Severn"
HealthBeds Wall Hugger Adjustable Bed.
"Kingfisher Furniture 
I recently purchased a Breasley Mattress from this company after months of trying to find the right mattress..Nina gave me information ,advice, and listened to what I wanted for my own comfort. At no time did I feel pressured or expected to order at the time. I took time to think over what I had been told and 2 weeks later I ordered my mattress... it is wonderful everything I wanted and more.
After sales support is friendly and happily dealt with.
I would recommend this company and will definitely use again.
Fay Cameron."
Breasley Uno Memory Pocket 2000 Purchase.
"Excellent customer focus & delivery. Sales staff helped me get the right bed for my budget. 

Kevin"
MiBed Purchase.
"Dear Nina and the Kingfisher Furniture Family
A GOLD STAR FAMILY COMPANY - FANTASTIC SERVICE 

PURCHASE DATE: JUNE 2018
A big thank you to you all. I was trying to purchase two adjustable beds. But my mind was a totally overload with information overload, internet search and visiting different stores. I wanted to get the best for my parents but had a budget that was not quite so flexible. The hunt for beds went on for a couple of months and I was no where near purchasing these items.  It is good to see what is available on the internet. Maybe I'm old fashioned. But I want to physical see the actual product I wanted to purchase and deal with a human being with a name and face. 

One day by chance I found Kingfisher Furniture on a internet search engine. I saw a number and rang it. No faceless phone system or contact centres hurray.   I spoke to a wonderful lady called Nina. It was so fantastic and stress free.  She wasn't pushy and she understood and helped me stick to by budget. I was able to take my parents to their premise and physical see and test the actual beds that she suggested. We ordered two beds Malvern Executive and Elite Mibeds. Totally gold star service all the way. Nina looked after us and kept us informed at each stage of the order process and even arrange the delivery to suit our needs. We had a slight change of plan but Nina was on the case and got our delivery time change.  On the day of delivery there was a slight hiccup, it was the hottest day to date and the poor delivery guys got stuck on the horrendous M6/M54 motorways due to a major accident.   By hook by crook they delivered a our beds and set them up.  These guys were fantastic, totally sums up the gold star service this family company provides. They set up beds, and took the rubbish away with them. I now have two happy parents who are experiencing good sleeps finally. FINALLY I am so relieved I got them the right beds and stress free of this major purchase. 

PLEASE TAKE MY ADVICE SERIOUSLY, IF YOU WANT LESS STRESS AND HAPPY PARENTS. KINGFISHER FURNITURE AND NINA WILL TAKE ALL YOUR WORRIES AWAYS. YOU WILL BE SO HAPPY WITH YOUR PURCHASES AND AFTER CARE BY THIS WONDER TEAM.

Thank you again so much Nina and the Kingfisher Furniture Family

Kind regards

Rupi Kaur 😊"
MiBed Purchase.
"This is to let you know that our experience when purchasing the MiBed Annie from Kingfisher Furniture was first class from start to finish. Thankyou for making sure everything went smoothly and for keeping us informed when we would receive the bed.
The two lads who delivered the bed could not have been more pleasant and they took great care when bringing the bed into the house not to damage anything. They installed the bed and took all the packaging away with them.
A FIRST CLASS SERVICE ALL ROUND.
We had purchased a single bed for our aunt and were so impressed with everything that we had no hesitation in purchasing another and the 4ft MiBed Annie is a great size for our dad.
Will not hesitate to buy from Kingfisher Furniture again.
Thankyou Nina for all your help and attention.
Best regards

Brenda x"
MiBed Purchase
"Hi Nina, thank you for all your help, my parents are delighted with the chairs, I would recommend you and your company to anyone, fast, efficient and excellent customer service every step of the way. You made the job a whole lot easier, thank you once again for everything, you are a Star ⭐️
Regards

Amanda Lake"
MiChair Purchase.
"This was a first class service. I am delighted with my JAY-BE® Modern Pocket Sprung Fabric Sofa Bed. Nina was very helpful and I highly recommend Kingfisher Furniture to any prospective customer.
David Cobley."
JayBe Modern Sofa Bed
"Just to let you know that my adjustable bed is absolutely wonderful, took a couple of days to adjust to mattress, but now getting the best sleep ever. I want to thank you personally for your help and the fact you kept me updated with the progress of my bed from ordering to bed being built and then fast delivery. Delivery men were very professional, helpful and set up bed quickly followed by demonstration on the controls. I have and would recommend Kingfisher Furniture to anyone thinking of using your company as I am very impressed with your customer service from order through to delivery.
Kind regards Helen Maliska"
Hestia MiBed Purchase.
"In response to your email I cannot thank you enough for the considerable time you spend on the phone with me, on more than one occasion. One call as I remember was in excess of hour, answering my questions in helping me source a electric bed for my disabled father.
Clearly setting out the options available, at no time did I feel any pressure to purchase. 

I feel there is always a fear of purchasing big ticket items over the internet, as so often you cannot always be sure that what you receive will meet your expectations. In the case of Kingfisher I can honestly say that my expectations were met in full. The bed was a quality product, competitively priced, and delivered within 12 days of purchase - amazing!

Thank you so much.

David Galliano."
MiBed Purchase. 
"Living in Scotland i was a little concerned about ordering from a company that i had never heard of which was based in England.However after talking to Nina and getting lots of advice and product information (no hard sell)i ordered a new adjustable bed.From this point onwards everything went like clockwork,bed delivered and set up to my satisfaction.
Thank you for a stress free transaction.
Highly recommended.
Bob"
MiBed purchase.
"Cannot recommend enough !!! Dad needed a new adjustable bed and chair. Stumbled upon Kingfisher but most importantly Nina !!! She gave me her time, her experience and her opinions of my options. No hard sell, time to think ask questions and decide. From deciding what options to have for the bed and chair....the fabrics and colours decided on. She seamlessly arranged for the delivery and assembly of the products at Dad's house. Thank you Nina for holding my virtual hand and assisting us in our purchases. Bed and Chair arrived today. Quality unbelievable, so very happy with the products, but most importantly my Dad has what he needed. Great Products, competively priced. Thank you !!!"

Jamie Page.
MiChair & MiBed Purchase.
"I recently purchased from Kingfisher Furniture two MiBeds , one 4foot six and one 3 foot , for my wife and I.  I did a lot of research on these types of beds before deciding to purchase from Kingfisher due to their competitive pricing but also because of the assistance and help given by Nina. She is a tremendous asset to her company with just good helpful advice and follow up and no hard sell !"
Jon Claydon. 
MiBed Purchase.
"Thanks again for all your hard work helping me to get just the right mattress for my daughter's bed. Thanks to your excellent customer care, I received the right mattress, even though I had ordered the wrong one! I am so glad you called me to check if I had intended to order the one I'd ordered, because otherwise I would have ended up with the wrong one. The mattress itself arrived within a couple of days and my daughter absolutely loves it. It is very comfortable and robust. Thanks again for your excellent product and customer service. I have been hugely impressed and will be back for more when the need arises. Best regards, David R"

David R
Mattress Purchase.
"from the start a very pleasant experience dealing with this company,particularly Nina who was extremely helpful and kept me up to date ,step by step with my order. the bed was delivered on time by very helpful men . altogether a very satisfactory experience and i would thoroughly recommend Kingfisher as a company"

Brian Parratt
MiBed Purchase.
"This is by far the best online service I have ever experienced. From ordering to installing I was kept informed all the way, thanks to Nina it was a first class service. Her invaluable knowledge helped me choose the right product for my elderly father during a difficult and stressful time. I would highly recommend this company. Thank you once again Nina."
Kay Reid
MiBed Purchase.
"Mum is sleeping well on her new bed. I must say it looks extremely comfortable.
Thankyou again for all your help with the purchase of the new bed and the speed with which it arrived.
Regards 

Gill Hutchins"
Mrs Hutchins.
MiBed Emery Purchase.
"Being a disabled pensioner I do not like ordering things by computer , so I phoned Kingfisher Furniture and spoke to a lovely lady named Nina regarding a Furmanac MiBed adjustable bed. Nina right away put me at ease and guided me through purchasing and VAT refund procedure, any questions about mattresses I had Nina answered and explained everything no matter how long it took so I ended up with a mattress that suited me. On the day of delivery I was at the hospital so only my wife was at home, when the two delivery men arrived my wife said they were very professional and took great care and attention not to damage the walls, they also moved anything that could got knocked or damaged. They set the bed up and explained the operating procedure to my wife, they also gave my wife an operating manual and a copy of the delivery note, she was very impressed with the professionalism in the way they carried out their job. I have been using the bed for a week now and found it to be everything I need. Would I use Kingfisher and Furmanac again, without a hesitation."

Fred Woolhead
MiBed Purchase
Couldn't have been more pleased with total support from office re order and delivery. When it was delivered I was amazed at speed and efficiency of installation. Can highly recommend kingfisher furniture .

Carolyn Voyle.
MiBed Purchase.
Hi Nina it's been approx. One week now since the delivery of our Healthbed mattress, & because of your involvement in sourcing them for me , I would like to say a big thank you, they are just what i wanted for a good night's sleep, should I require any more help in the future , I would,not hesitate to use Kingfisher again.
  Kind regards Steve.
Healthbeds Purchase.
"Kingfisher Furniture Are An Outstanding Organisation Who Provided Proper Old Fashioned Service Through Their Lovely, Knowledgeable Representative Nina"  Malcolm

"You Are A Star For Putting Up With All The Queries And Questions Malcolm Put To You. Also For Being Patient, Attentive, Polite And Considerant With Us Throughout The Purchase Proceedings And Beyond" Rosemary
Again Many Many Thanks From Us Both.
Rosemary & Malcolm
MiBed Purchase.
I contacted Nina at Kingfisher Furniture in order to find out more about Mibed.  

Dad was in hospital and I was totally in a spin about the different beds and widely varying prices.  
From the very first call Nina made everything make sense, she was professional, sympathetic and understanding.  
With her help we soon decided which bed would best suit Dads need and the order was "rushed" through production.  
I wholeheartedly recommend this Company and the efficiency of Nina.
Jane Stewart
January 2018. MiBed Purchase.
Brilliant, personal service.  

Nina in particular at Kingfisher Furniture went above & beyond the call of duty working late after closing hours to ensure our bed would arrive in time for Christmas. 
Very accommodating, friendly & helpful taking the time to ensure we got the right bed for us.    
We were kept informed every step of the way & the delivery service was great also ensuring they delivered when & how they said they would, ie delivered within the allocated timeslot, phoned half an hour before they arrived, set up the bed & took all the packaging away & again did so in a friendly & professional manner. 
Nina even called to ensure the delivery guys had arrived when they said they would. 
Great, all round, faultless service which seems so rare now days.  
We are very happy with our purchase & the whole process so wouldn't hesitate to recommend Kingfisher Furniture. 5 star + store & service ******

Jo Pennifold
December 2017. MiBed Purchase
Hello Nina
I am more than happy to give Kingfisher a glowing testimonial. 
My sister - in - law is not well at the moment and will be spending Christmas with us. We needed a spare bed for her and ordered this in November  via Kingfisher, hoping there would be enough time before Christmas for delivery. Although  the manufacturer, Jay Be, could not guarantee this, Kingfisher liaised with the firm to try to ensure we would have the bed in time. AND  WE HAVE!
Whether via email or phone, Kingfisher staff have given excellent customer service being helpful and informative with a positive attitude. I would certainly use the firm again and recommend friends.
 In an age when pleasant, efficient service to customers is not always available, Kingfisher staff stand out. Well done and thank you for your concerned efforts on our behalf.
I wish you all a very well -deserved,  Happy Christmas and prosperous New Year.
With best wishes
Linda Evans
December 2017 JayBe Footstool Bed Purchase
"Hello Nina,
I wish to express my sincere gratitude to you for all the friendly help, advice and support you so patiently gave to me to enable the purchase of my new Mi  Bed, which has proved to be perfect.
Having never purchased on line before I was not very confident but the knowledge you have of your company products and the reassuring way you explained the process of the purchase helped make my choice of bed a successful experience.

You dealt with the whole purchase most efficiently and made dealing with Kingfisher Furniture a pleasure. You are a great assett to your company Nina.
I will have no hesitation in making future transactions with you and have already recommended Kingfisher to family and friends.
From start to finish everything went smoothly.  It was gratifying to be kept informed regularly of the progress of my order and I was pleasantly surprised at the speed of the purchase transaction.

Due to my husbands sudden illness I had to delay delivery of my bed and you kindly organised this on my behalf and arranged the subsequent delivery.

The delivery men arrived in the allotted time frame, assembled the bed and removed all packaging satisfactorily.
Once again , thank you so very much for all your kind care and consideration.

Margaret Deller."
MiBed Purchase December 2017.
" Hi All, 
           I am sending this email to  say what brilliant service we have had from Nina reference getting a pair of electric beds for my disabled parents. The service has been second to none and I will certainly recommend your company in the future and it is nice to see there are still some companies out there where customer service is king.  Many thanks Nina you are a star,
Kind Regards Mark and Liz           ( Lincolnshire November 2017) "
MiBed purchase. November 2017.
"We bought 2 single (Mi bed) adjustable beds from Kingfisher Furniture, NINA was so helpful from start to finish and she went out of her way to make us understand how to choose the mattresses/ she even answered the phone or called us back on her day off with any enquires we had, it took us very long time to decide to choose the right type of mattresses and base, NINA was so professional and never put any pressure on us to buy any products for a quick sale, I would definitely recommend Kingfisher Furniture to anyone.
Myself and my wife would like to thank NINA for helping us for everything and making us understand how to choose the product, we are having a very good sleep and enjoying our new beds."
Vinod - Bina. September 2017. MiBed Purchase.
"After using High street stores before and had pushy salespersons decided to try online purchasing and so glad we did.
Purchased one bed and mattress and was so pleased that purchased a second.
From start to finish the process was so smooth, thanks to Nina, with efficiency and with great dialogue on timings and what was happening.
Would not hesitate to recommend Kingfisher to anyone.
Many thanks to Nina on the smooth transactions.
Regards-Alan and Christine"
Alan Boddy, Essex. August 2017. Vogue Beds purchase.
"After a bad experience with a major furniture chain, Kingfisher Furniture were recommended as an alternative supplier for a Furmanac adjustable bed. 
The service provided has been outstanding from start to finish. Nina has an incredible knowledge of the products and is so helpful. Nothing is too much trouble. The bed is beautiful, it has a top quality finish and is so comfortable. Having suffered for years with a spinal condition, I have never slept better.

I cannot recommend this company and their products highly enough". 
Kirsty Miller, Cambridgeshire. August 2017. MiBed Purchase.
"From the first contact with Nina at Kingfisher Furniture we felt our enquiry was being dealt with efficiently and with understanding, helping with our choice of Mi-Beds.
Our order and follow up has been excellent, keeping us informed at all times, we have and in the future would recommend
Kingfisher Furniture to friends and family. The beds are as advertised and we are very satisfied with them."
Yvonne and Peter Chatfield, Somerset. July 2017. MiBed Purchase.
"I needed an electric bed for a 100 year old who was struggling to sleep comfortably at night.
I contacted Kingfisher furniture and spoke to Nina,  ( several times ) who could not have been more helpful. 
The bed arrived incredibly quickly, ( important as we wanted to get our money's worth ! ) and was fitted by two lovely gentlemen. 
The bed was an instant success and a year later is still being used. 
I would use this company again and really appreciated the personal touch that was offered. "
Jane Poyser, Hertfordshire. June 2017. MiBed Purchase.
"Dear sir/madam
I ordered 6 Mia cream fabric chairs from kingfisher furniture and I dealt with ( Nina )
Firstly... may I say Nina was a pleasant & extremely helpful lady ( not pushy at all ) which is one of my pet hates..
Secondly .... Customer service I have dealt within this company also is of high standard to your customers...
So it's just a huge thank you to Nina for her help & efficiency in helping me with these dining chairs...
Thank you kingfisher furniture for all your help & I would definitely use you again
Regards"
Mrs PATTRICK, March 2017. Chair Purchase.
We would love to hear from our customers about their experience shopping with us, if you would like to leave a testimonial please email us at info@kingfisherfurniture.co.uk.