Swanglen Cleopatra Padded Headboard In A Slate Grey Fabric
A new upholstered headboard is the easiest and quickest way to re-style your bedroom.
All of Swanglen's furniture and headboards are hand finished by a dedicated team of skilled upholsterers with a keen eye for detail.


They use some of the best fabrics available, sourced from around the world, in a wide spectrum of colours.

From classic contours to more contemporary shapes, there really is something for everyone.

The Cleopatra headboard features an Arch shaped headboard with edge band trim.

It is made in a hard wearing linen look fabric.

It is made in the UK by a National Bed Federation Approved Manufacturer.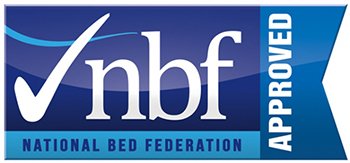 Your headboard will be delivered within five to ten working days.

Dimensions

Single: 900 mm Width x 50mm Thick x 500 mm Height
Single: 35.4 inches Width x 2 inches Thick x 20 inches Height
Double: 1350 mm Width x 50mm Thick x 500 mm Height
Double: 47 inches Width x 2 inches Thick x 20 inches Height
King Size: 1500 mm Width x 50mm Thick x 500 mm Height
King Size: 59 inches Width x 2 inches Thick x 20 inches Height