Protect-A-Bed Premium Luxury Waterproof Pillow Protectors - Originals Collection
Protect Your Pillow With These Waterproof Pillow Protectors.
The Premium Pillow Protector keeps your pillow clean, dry and dust mite-free so you sleep soundly.
The unique Miracle Membrane barrier promotes a healthy sleep environment by protecting you from dust mites and other allergens that may lurk in your pillow.
The Protect-A-Bed Premium Pillow Protector Is Guaranteed For Five Years.
The Premium is part of the Protect-A-Bed Originals Collection.
It is fully waterproof, soft to the touch, hypoallergenic and helps with temperature regulation. 
It will also block dust mites and allergens from entering your pillow.
The Premium pillow protector is made from a cool Terry Toweling, providing cushioned protection.
The Premium pillow protector is waterproof, anti-allergenic, prohibits the growth of bacteria, whilst allowing air to freely pass through.

The waterproof Pillow Protector features Protect-A-Bed's unique Miracle Membrane®, which keeps your mattress free of spills and stains while remaining cool and comfortable to sleep on.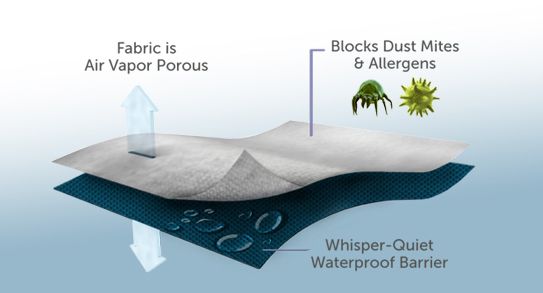 These are machine washable at up to 60 degrees.
Protect-A-Bed pillow protectors are Good Housekeeping Institute tried, tested and warranted to give you peace of mind.