Profiling High Low MiBed Healthcare Adjustable Bed With A Kingfisher MiBed Holly 2150 Medium Firm Mattress
This MiBed high low profiling healthcare bed includes a FREE upgrade to a white glove two man delivery who will also install your new bed in your room of choice.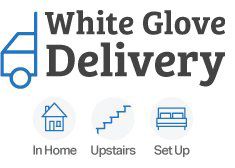 As part of this professional installation service your new bed will be fully installed and all packaging removed.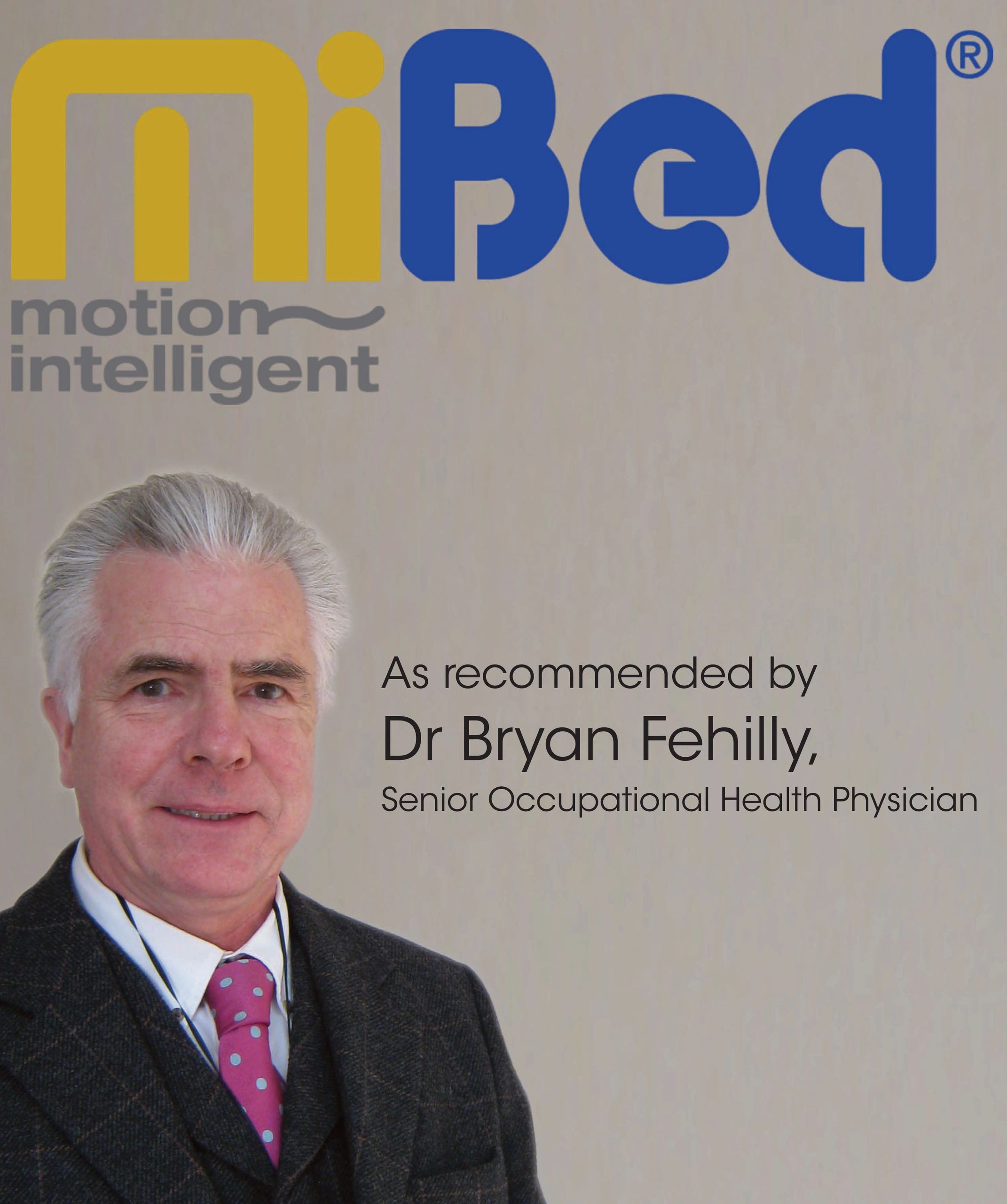 For your piece of mind the MiBed High Low Healthcare bed comes recommended by Dr Bryan Fehilly, Senior Occupational Health Physician. 
The High-Low action MiBed is the perfect solution to all care situations. 
It is perfect for use in both care homes and home care situations which helps both individuals with specific needs and their carers.
Depending on your level of mobility, our High – Low mechanism allows the whole bed frame to be raised and lowered, allowing the you to select the most suitable height for getting in or out of the bed unaided. 
The frame has a 350 mm (13 3/4 inches) maximum lift height.
You can adjust the five sections of bed to the most comfortable angle for your own needs.
The bed can be raised in the profiled position, perfect for looking out of windows or in a flat position which is perfect for carers to help the patient without bending down.

You can raise the head, back rest, plus raise the leg section and have a knee break to help prevent you from sliding down the bed.
For additional support you can add the optional patient helper hoist to your order, this can be used to turn yourself and alleviate pressure points. 

The bed comes with a wired and easy to use remote control.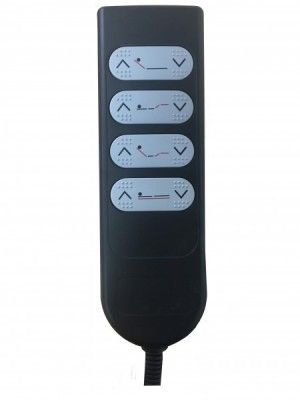 If you need to control the bed for the user from another bed you can add an extension lead to your order.
The high low MiBed is available in a shallow base or you can have it in the standard MiBed divan style bed base.
The shallow base has three different length skittle legs options to help get the perfect height bed that you need.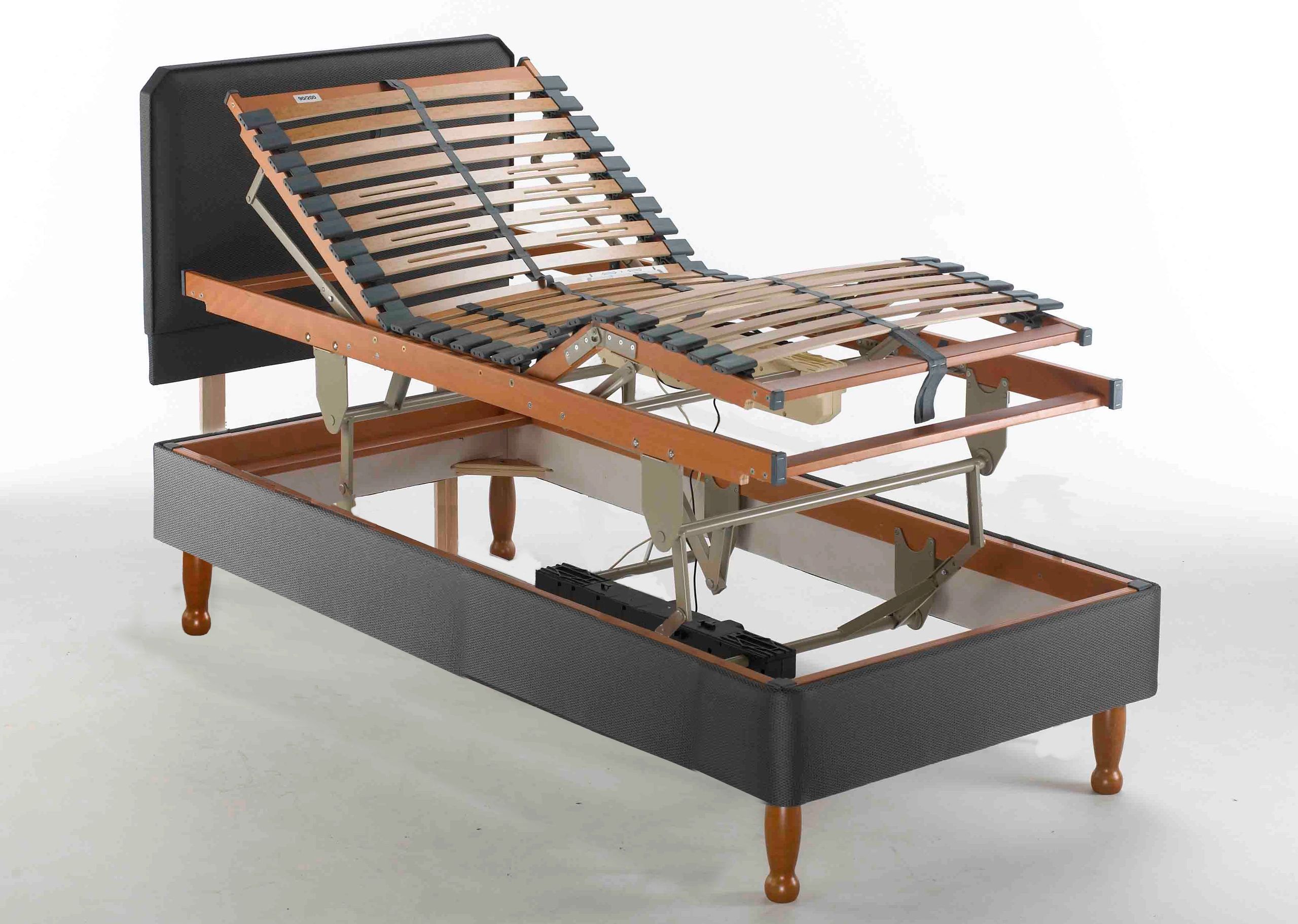 The Divan style base comes on castors and has a fixed height of 15 inches.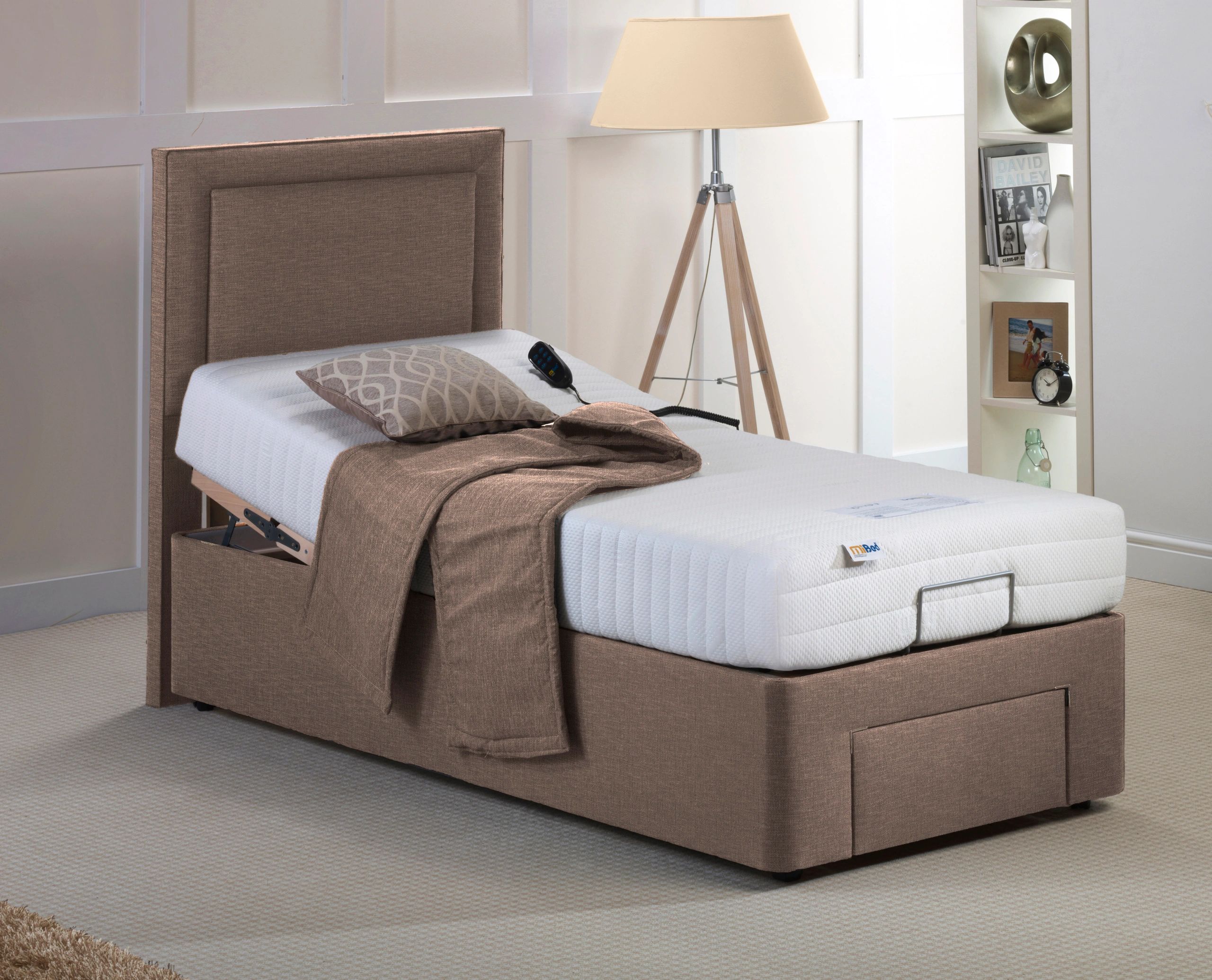 Just make your selection preference from the drop down box.
Features.
5 part adjustable profiling with integral raise and lower facility.
Four motors, two for lifting and two fro profiling.
350 mm lift maximum. (13 3/4 inches) 
Weight adjuster zone.
Load bearing points bolted and sleeved.
Can support users up to 18 stones.
If required you can also add cot sides and a hoist patient helper to your order, these will be installed when your bed is delivered.
This high low bed comes with a Kingfisher MiBed Holly 2150 Pocket Sprung Natural mattress.
The MiBed Holly adjustable bed is hand made in the UK from the finest materials available.
It is luxuriously layered with wool and silk, both natural fillings for superb comfort.

It is cool in the summer and warm in winter with excellent moisture control. 

The Holly is hand side stitched for extra comfort and stability.
The mattress is a 2150 pocket sprung unit and is rated as medium - firm.

If you require a firmer feel, there is a 1200 pocket sprung version of the Holly which is rated as medium - soft.
Mattress Benefits.

The pocket sprung unit promotes natural alignment of the spine.

It also ensures that your weight is evenly distributed which reduces the amount of strain put on your body.

It also offers an increased amount of air circulation to provide a comfortable bed temperature.

The mattress is filled with layers of natural wool and silk which is a more natural alternative than other materials used in other mattresses.

The wool and silk both offer an added luxurious level of comfort and work with your body temperature to keep you cool in the summer and warm in the winter.

It is hand stitched which offers added support.

The mattress also has a non slip base panel which keeps the mattress in place.
To protect your new adjustable bed mattress this bed comes with a FREE luxury Waterproof  Cotton Protect-A-Bed two in one mattress protector and fitted sheet which will automatically be added to your order for the size of your bed.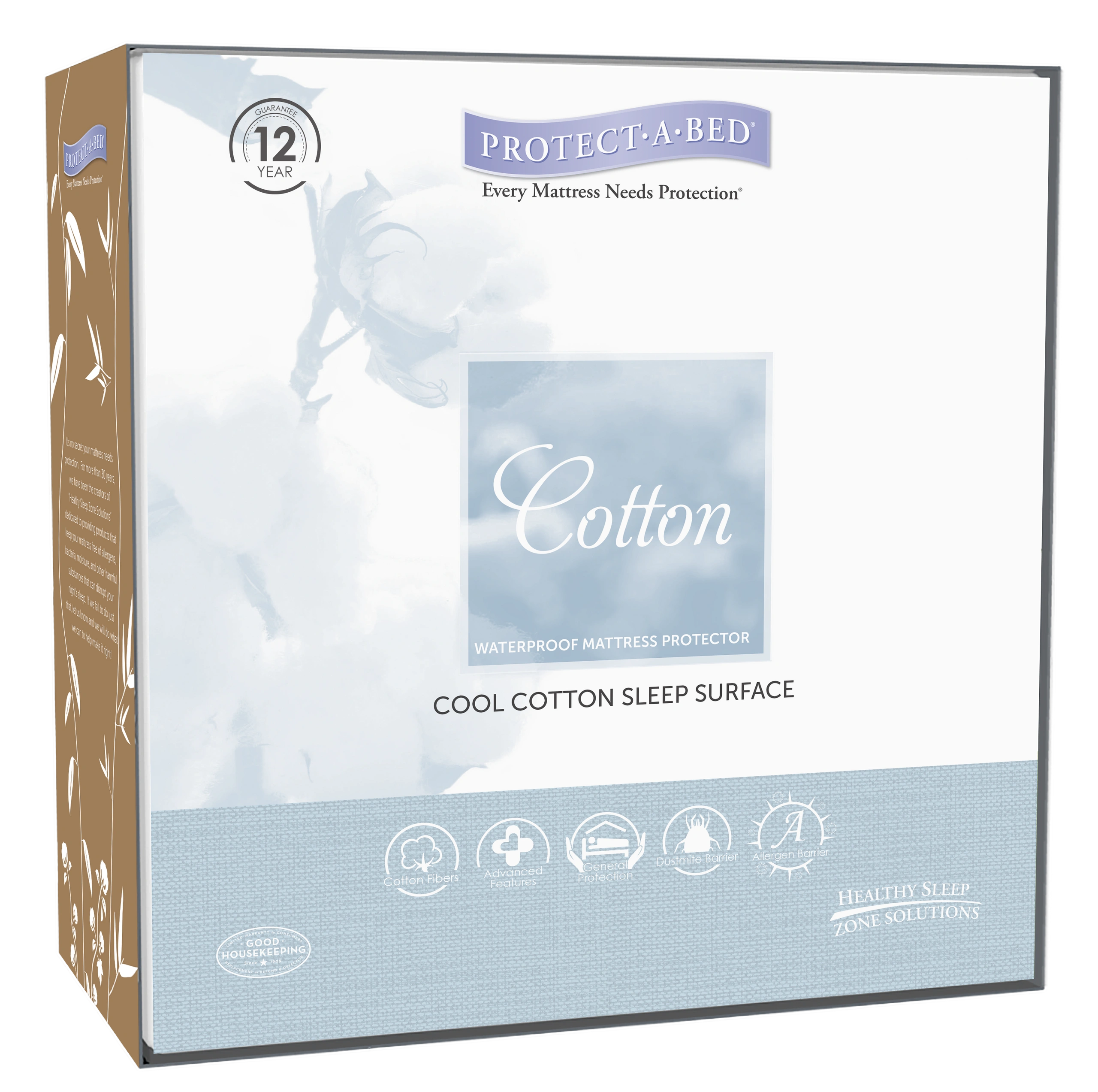 These mattress protectors are specially made & elasticated to fit our adjustable bed mattress size of 200cm long.
These mattress protectors are waterproof but breathable and are guaranteed for 12 years.
They are Hypoallergenic and provide a shield against dust mites, allergens and other irritants for the healthiest sleep zone possible.
If you require a second mattress protector you can order an extra one here.
Fabric options.
Below is a selection of the most popular fabrics but this bed is available in the full MiBed fabric swatch.
Please click here to see the complete swatch, if you require a different fabric than the ones below just select other fabric choice and either email or call with your order number and fabric choice.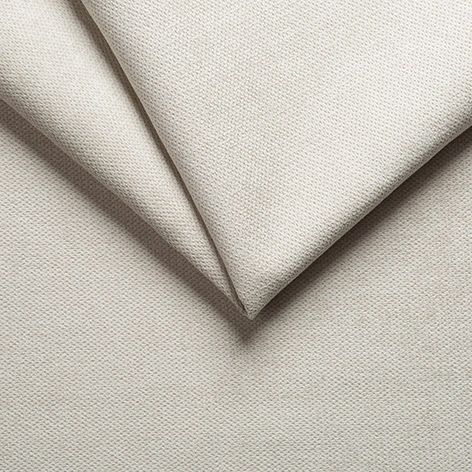 Desire Beige.
Desire Expresso.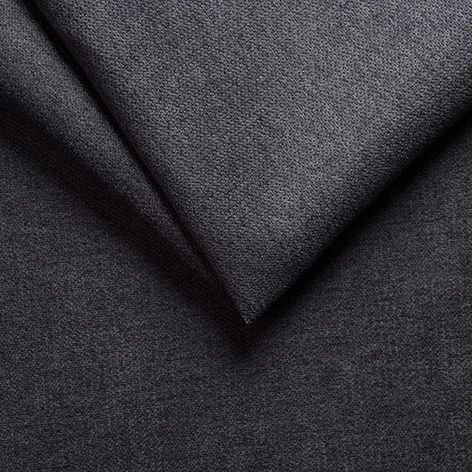 Desire Graphite.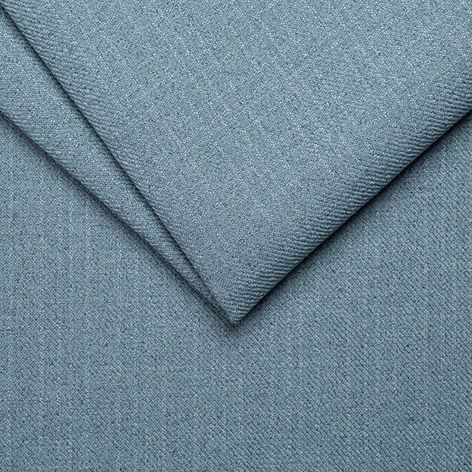 Leamington Blue.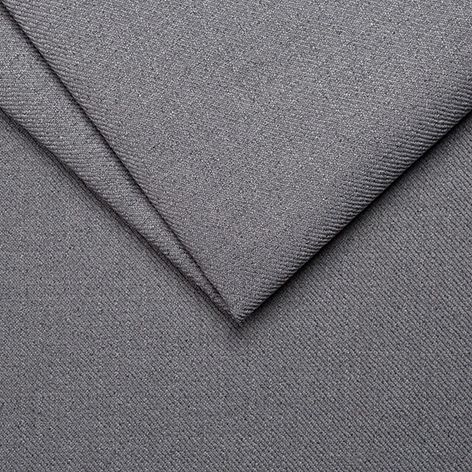 Leamington Graphite.
Ronnie Beige.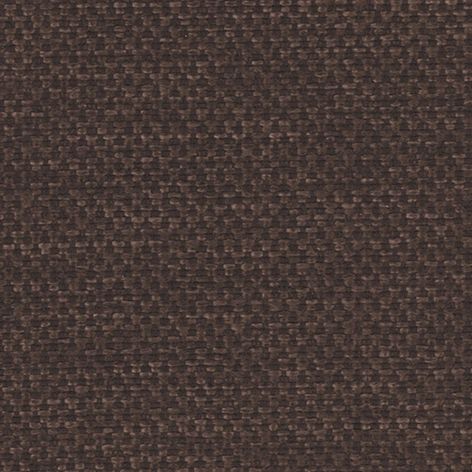 Ronnie Brown.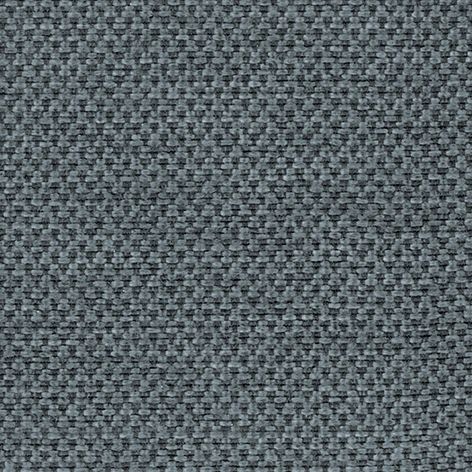 Ronnie Grey.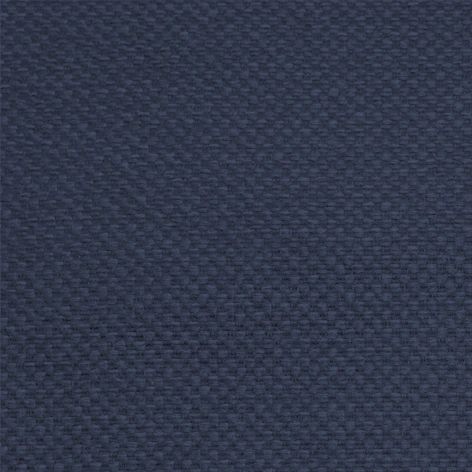 Uno Blue.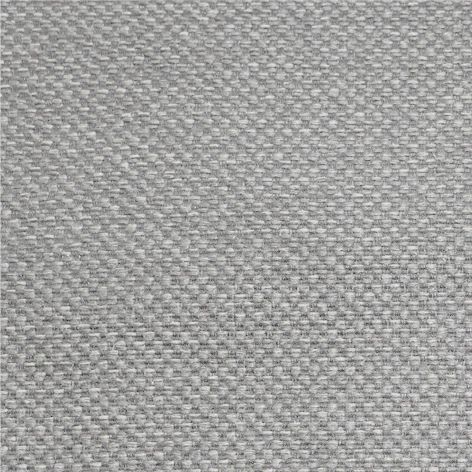 Uno Light Grey.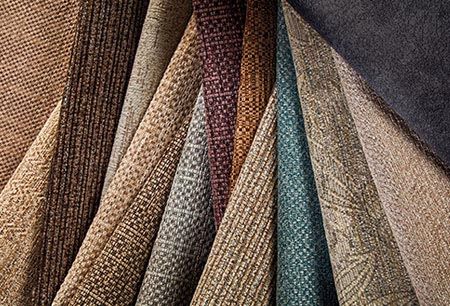 Please click here to see the full MiBed fabric swatch.
Luxurious Upholstered Matching Bedside Cabinets.
Sadly you cannot add storage drawers to the High Low Healthcare bed but you can add these gorgeous hand made bedside cabinets, these will be made in the matching fabric to your bed base.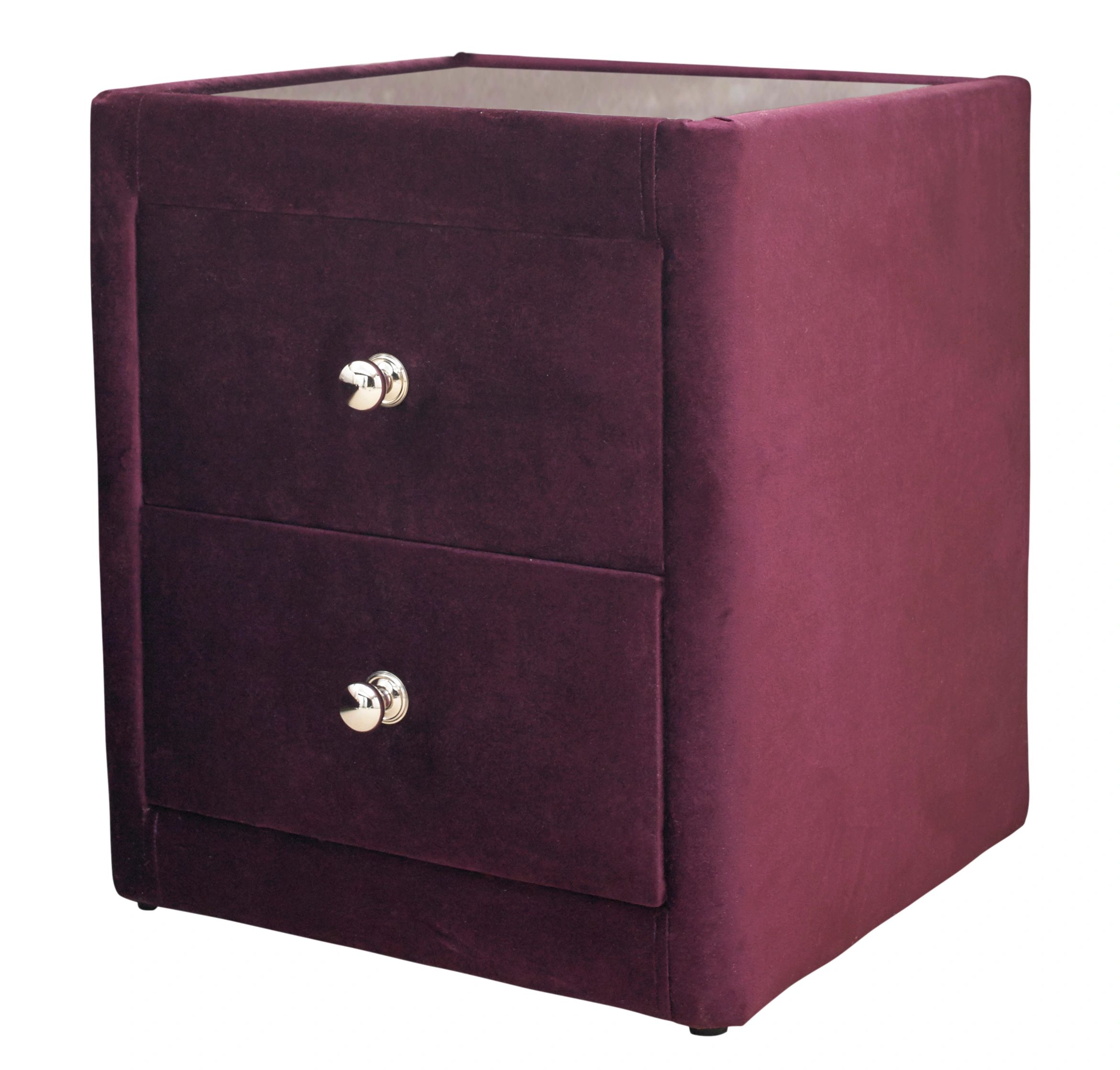 These bedside cabinets are hand made in the UK and will be delivered fully assembled.
They feature a glass top with two drawers with luxurious metal handles.
They are upholstered in the matching fabric of your bed.
The bedside is 54cm High (21 Inch) x 46cm Depth (18 inch) x 46cm Width (18 Inch) 
The Headboard, Patient Helper, Cot Sides or Cot Bumpers are not included in the bed price but can be added to your order.
Please Click Here To See Our Range Of MiBed Headboards In Matching Fabrics.

If required you can also add the following options to your high low bed base.

Patient Helper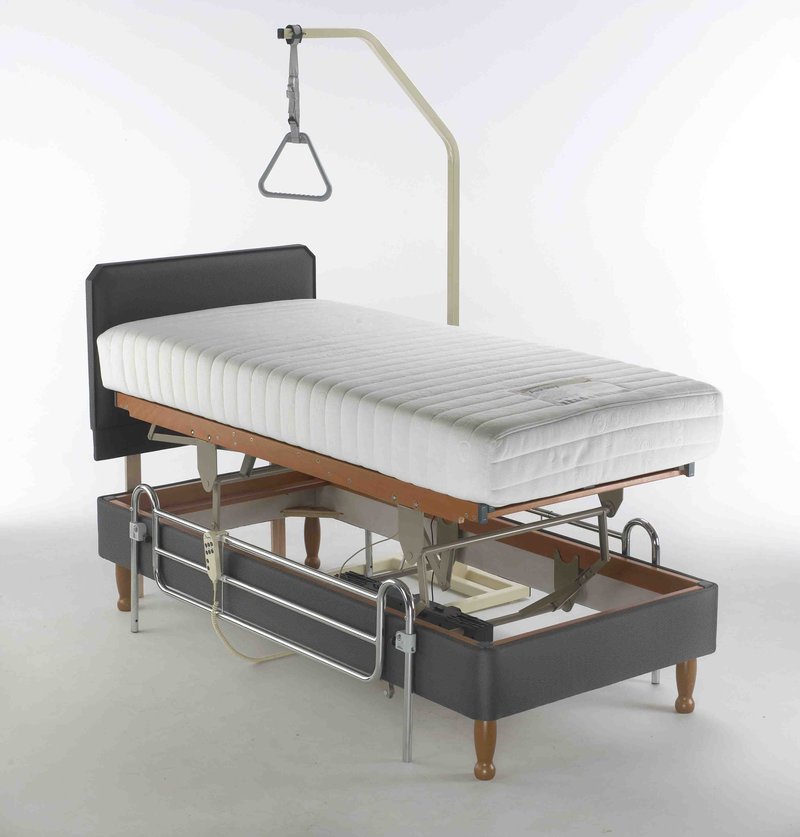 This patient helper will assist you in finding a comfortable position on your mattress and getting in and out of the bed.
It is a steel frame which slides under the bed base and the hoist positions over your mattress to aid in turning yourself and alleviate pressure points.
Cot Sides.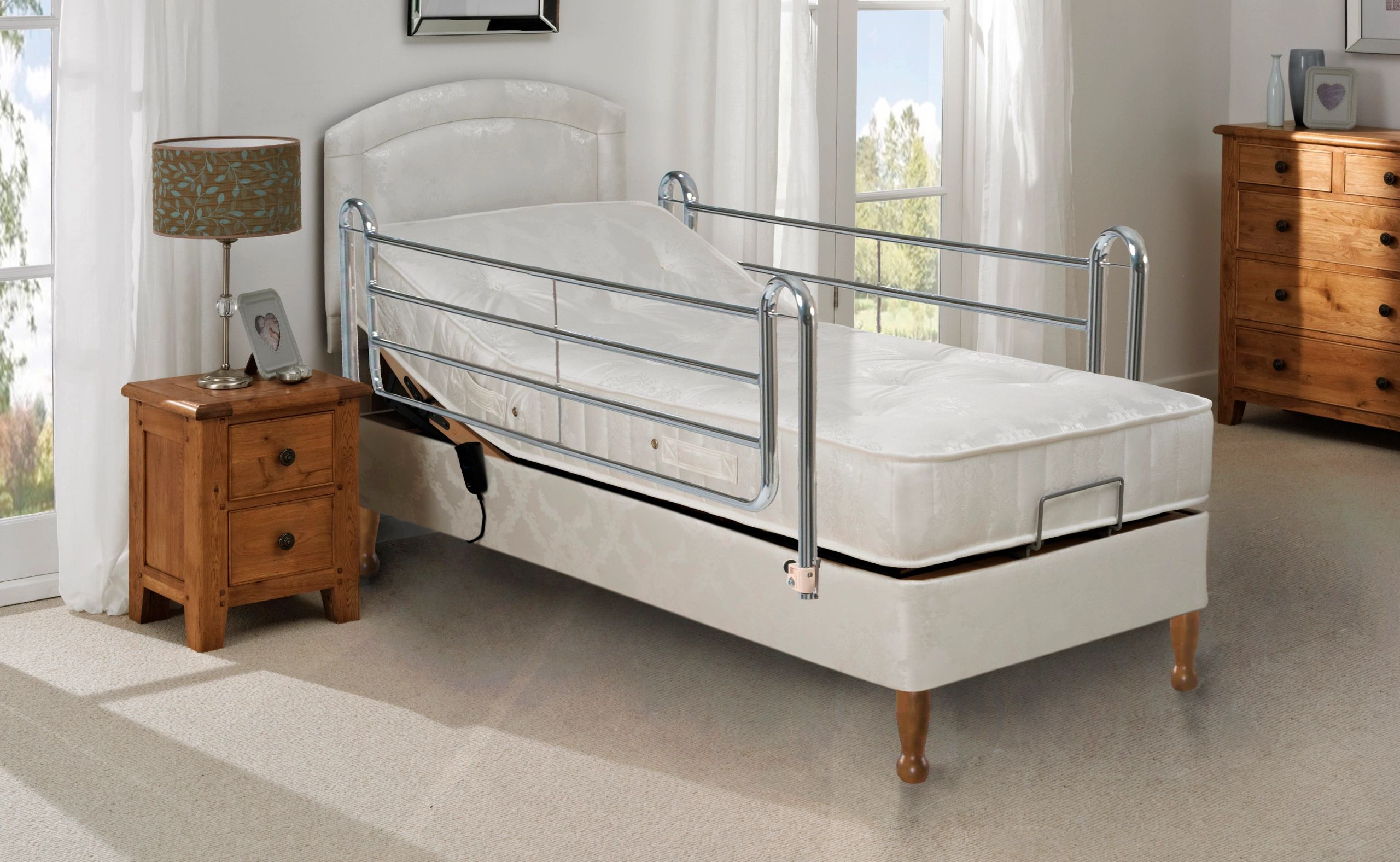 These can be added to your base to prevent you from rolling out of bed while sleeping.
They can be raised and lowered to aid getting out of bed.
Cot Bumpers.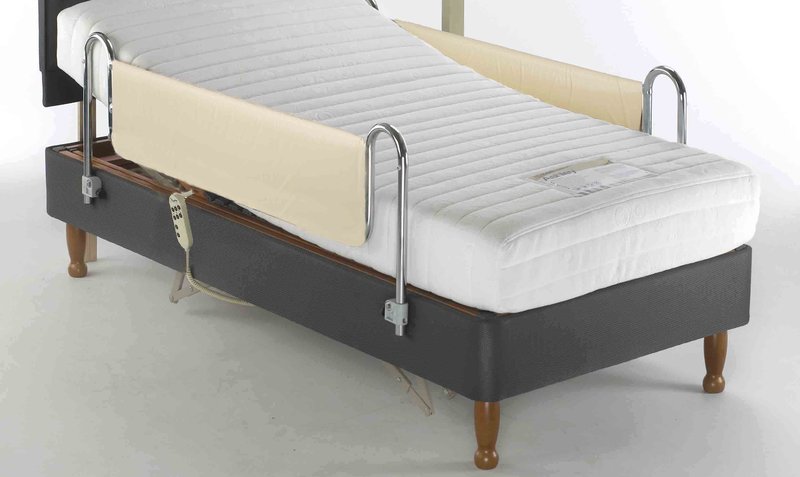 These can be added to your cot sides for extra comfort and protection.
Side Retaining Mattress Clips.
You can also add side retaining mattress clips, these come in a set of four, these stop the mattress from moving from side to side when getting in and out of the bed.
The 2ft 6 & 3ft clips are a cream plastic.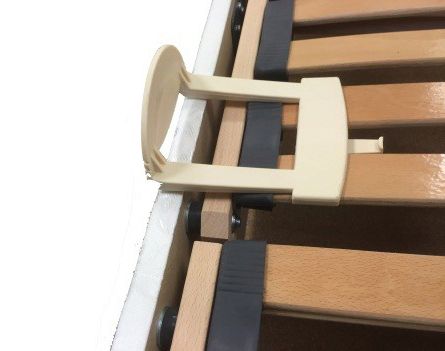 The 4ft clips are chrome.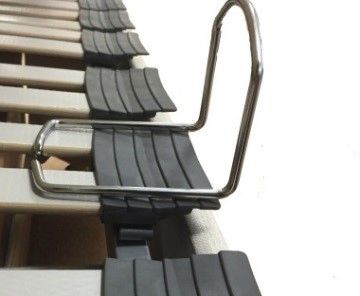 If you prefer the chrome these can also be used on the 2ft 6 and 3ft bed.
Dimensions.
The Kingfisher MiBed Holly 2150 Mattress Is 10 inches thick.
The MiBed Divan Base is 15 inches high, (13 inch base with 2 inch castors) giving a total bed height of 25 inches.
The shallow base has a depth of 8 inches with skittle legs options of 7", 8" or 9 inches high. 
This gives a range of 25, 26 or a 27 inch bed height.
The bed frame can then lift a maximum of 350 mm (13 3/4 inches) from the lowered total bed height.
All MiBeds have a standard length of 6ft 6 (200cm)
If required we can offer special sized MiBed Healthcare beds, these carry a 25% increase over standard size prices. Please call for details.
These range from a length of 5ft 9" up to a 7ft length. These go up in 3" increments. 

Should You be FREE from VAT?
If you have a physical or mental impairment, or if you suffer from a long term illness then you could be exempt from paying VAT on you your MiBed®.
This VAT relief is available for disabled people when purchasing adjustable beds.
If you are unsure about your eligibility for VAT exemption please seek advice from your GP or alternatively for more information call the VAT Disabled Reliefs Helpline on Telephone: 0300 123 1073.
If you are eligible for a VAT free purchase, please click here.
Please click here to read our Furmanac MiBed Guide
This bed has a 18 stone per person weight limit.
Your new bed will be made to order and delivered within 7 - 20 days.
This bed is hand made in Great Britain and is Guaranteed for 5 Years.