MiBed Bolt On RF Massage Unit With Motor Memory And Underbed Light
The bolt on massage can be fitted to your new Mibed at time of manufacture.
These can be fitted to all of our MiBeds.
The elite base includes this massage system as standard.
We can also offer this service to a previously purchased MiBed but this will incur an additional installation charge. 
Please select the afterfit option if you already have your MiBed.
Radio Frequency (RF) Massage Unit
This is a  bolt on massage unit with a RF remote that includes under-bed lighting as standard.
Additional features include:

Radio frequency connection.

Memory feature so that your MiBed® moves in to your preferred preset position at the touch of a button.

Inbuilt facility to control your MiBed®.

Control the massage speed and intensity at the touch of a button.

Pulse / Wave / Constant options depending on your preferred massage style.

The remote also includes a torch.
Fitted under the beds wooden slats
You Could Benefit From The Following Massage Benefits:
Loosening muscles and tendons allows increased blood flow throughout the body. Improving your circulation can have a number of positive effects on the rest of your body, including reduced fatigue and pain management.

Massage therapy is great for working out problem areas like lower back pain and chronic stiffness. 

Stimulating the soft tissues of your body will help to release toxins through your blood and lymphatic systems.
Massage therapy will loosen and relax your muscles, helping your body to achieve its full range of movement potential.
A massage will encourage relaxation and boost your mood.  Going to bed with relaxed and loosened muscles promotes more restful sleep, and you'll feel less tired in the morning!
Stimulation of the lymph nodes re-charges the body's natural defense system 
Massage therapy is known to boost mood and promote better quality sleep, thus making you feel more rested and less worn-out at the end of the day.

Alleviate Depression and Anxiety

Massage therapy can help to release endorphins in your body, helping you to feel happy, energized, and at ease.
Reduce post-surgery and post-injury swelling

A massage is a great way to safely deal with a sports injury or post-surgery rehabilitation.
Assembly.
The massage system will need to be fitted and bolted onto your MiBed wooden slats.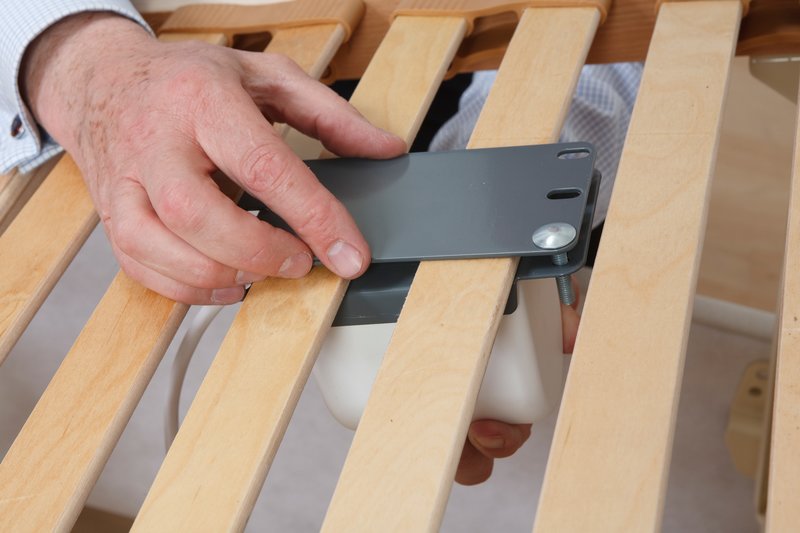 If you have a Kingsize (2 x 2ft 6) or Superking (2 x 3ft) you will need to order two massage units.