UNO Deluxe Foam Medium Feel 14cm Deep Mattress From Breasley
This mattress is made by Breasley, an NBF approved manufacturer so you can rest assured that you are sleeping on a safe and sound product.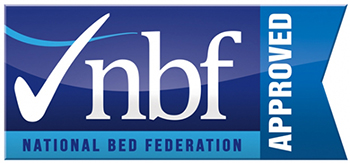 This mattress is made from quality high density foam, the mattress offers a good level of support from edge to edge which maximises the sleeping surface area.

At 14cm deep, this 'no turn' mattress may also be ideal for top bunks and high sleepers to conform to safety height guidelines.

The Uno Deluxe has a traditional quilted Damask cover for added comfort, with the advantage of Hycare® technology.

Hycare® is an antimicrobial treatment that offers protection against the house dust mite, helping to improve the cleanliness of the mattress.

Made in the UK to approved standards, this mattress has a fantastic full 10 year structural guarantee for complete peace of mind.

Delivered vacuum packed for your convenience – ideal if you need to manoeuvre your mattress around tight corners, small spaces or lots of stairs.

Just give the mattress a couple of hours to fully recover and then you are ready for a great night's sleep!

This mattress is rated as medium feel.

The bed is a warm and humid environment, the ideal breeding ground for dust mites.

The dust mites can easily reproduce, causing the allergen concentration to increase and unpleasant odours to develop.

HyCare® is an antimicrobial treatment that offers a solution against house dust mites and thereby helps improve the cleanliness of your mattress.

Thanks to HyCare® fungi, bacteria and unpleasant odours no longer stand a chance!

Key Features:

14cm deep mattress

High density support foam

Unique castellated base

10 year guarantee on the mattress core

Quilted Damask taped edge cover with Hycare® antimicrobial technology

Inhibits house dust mites

No turn mattress

Complies with UK Fire Regulations BS7177 (Domestic use)

Delivery of your mattress will be within 5 - 10 working days.

Dimensions:

Mattresses

Single - 3ft x 14 cm thick (5.5 inches) x 190 cm

Small Double - 4ft x 14 cm thick (5.5 inches) x 190 cm

Double - 4ft 6 x 14 cm thick (5.5 inches) x 190 cm

King Size - 5ft x 14 cm thick (5.5 inches) x 198 cm